Hello there! I wanted to share my latest make with you all. I recently pattern tested the much anticipated & newly released Julianne Shirt and Dress PDF Sewing Pattern by DIBY CLUB.
"The Julianne*" is a women's shirt & dress sewing pattern that will come in very handy when looking to create a handmade wardrobe. It has endless design options to choose from. You can make a shirt with a straight or curved hem… or a tunic… or a knee length dress. You could add a drawstring at the waist if you'd like too. Oh and you could choose to do full button down or a half placket. You can size up and make yourself a jacket… and can even add patch pockets – who doesn't love pockets? Crazy about hoodies? This pattern also has you covered!
*This post may contain affiliate links. I earn a small commission with each sale that comes from the product links I've shared. I only link to products I have personally tried, used, & love.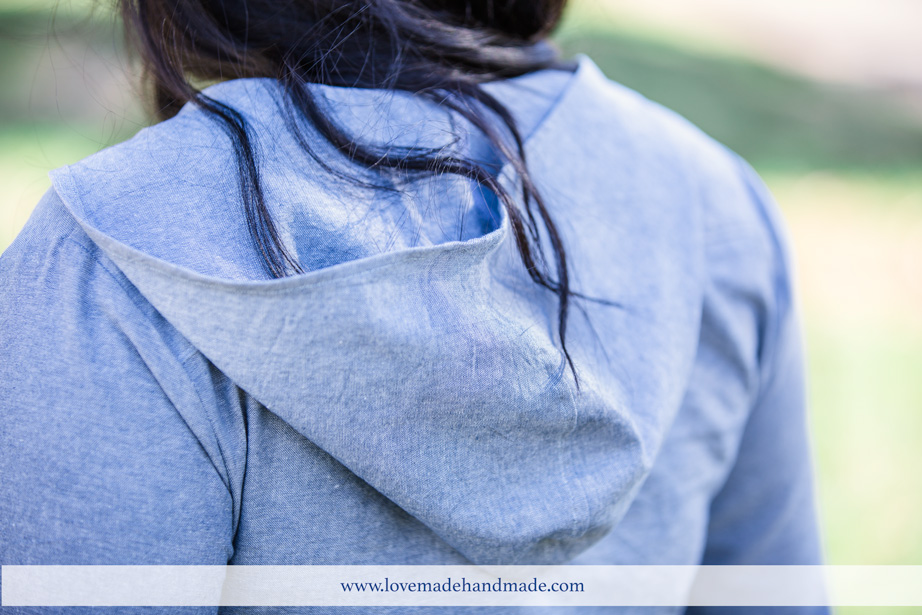 Wanna know what I loved about this pattern?
I had heart eyes when I saw the half placket…
Do you like half plackets? I looove them! In fact, I owned a bunch of half placket shirts throughout the years (because they're quite nursing friendly), but none of them fit me perfectly & none of them were handmade.  In fact, after I finished up my very own Julianne and tried it on, I decided to put all of those previously purchased half placket shirts in a bag to donate.  They're now hanging by my front door waiting to exit my home as soon as I get the chance.
I don't want to hold on to anything I don't LOVE, you know? And anything that doesn't fit ME perfectly. The Julianne is all I'll ever need if I ever want another half placket shirt… & I sure do want many more because it fit me THAT perfectly.
For my version of The Julianne, I chose these design details…
Half placket (of course!)

Curved hem (shirt length)

Hood

Long Sleeves with Sleeve Cuffs & Button Tabs


I shortened mine by a whopping 6 inches because I'm quite short. It wasn't difficult at all though as the pattern includes simple instructions on how to do this…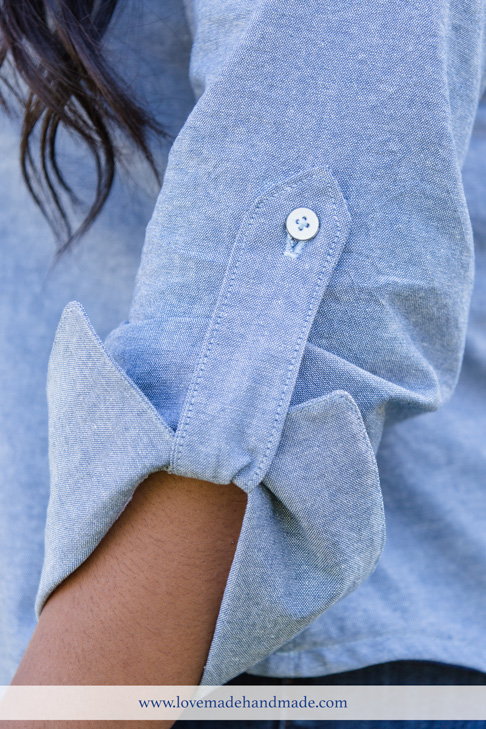 Fabric:
I made mine in a lovely chambray that I purchased from Fashion Fabrics Club last year. My choice of fabric stemmed from wanting to make a top that can be paired with not only jeans, but pencil skirts… or even leggings.  I wanted it as basic and as versatile as possible so I could use it through all seasons and for many occasions. Chambray is, in my opinion, a PERFECT choice for year-round attire. I have plans to make a few different versions of shirts and dresses using this pattern so keep checking back here to see my finished pieces when I make them.
In the mean time though, many other talented ladies already sewed up their own beautiful versions that you can see here.

Isn't that a ton of inspiration? Make sure you check out the other bloggers who are sharing tips, tricks, and their own versions of their "Julianne" in the Julianne Blog Tour.
The Julianne Blog Tour Schedule

And be sure to check out the DIBY CLUB Blog for their post on the Julianne Shirt & Dress Pattern Release. There's an amazing Release Week GIVEAWAY going on over there that you wouldn't want to miss…
I hope you consider making your very own Julianne because I'm really loving mine!
It's not a super quick sew, but it's only because of the many little details that go into making it a well-made garment.
Even if you are a beginner, this pattern will help you gain valuable sewing skills with all of the helpful hints and links to video tutorials to help you along the way.
I actually learned how to sew on buttons using my sewing machine for the first time while pattern testing… I didn't even know it was possible! My poor hands that were hand-sewing them on all these years are so thankful! You really don't know what you don't know until you learn it & I'm so thankful that sewing on buttons are no longer a pain…
Cant wait to sew up my other versions! I see a holiday dress in my near future…

Happy Living, Loving, & Making,
Karina @