We participated in "Take your Sons and Daughters to Work Day" this year on April 27th. My kids look forward to this day all year long since they get the opportunity to tag along with their dad to his office in NYC. They get to commute by bus and train… and walk the streets of NY like little bosses.
Addi went for the first time 2 years ago, and last year, Zali tagged along with them.
This year,  I decided to join them. Two years before, I was pregnant… and then last year, I stayed home with our infant, Kari. Kari's now a toddler and not attached to my body 24/7 like before so I felt a little empowered (by my bit of freedom) to venture out and explore the city with my tiniest human while my older homeschoolers went to work with their dad.
My plan was to travel with my husband and the kids to NYC and then walk them all to Ash's work office. I would give them hugs & kisses, and then Kari & I would be off to explore the city! It was going to be amazing…
Until Kari decided to have a full-blown tantrum in Port Authority.
She wanted to walk everywhere, in different directions, without holding anyone's hand because… let's be realistic, which toddler ever wants to hold hands? Our only option was to put her in the stroller. And she suddenly hates her stroller! And boy did she make it known…
She screamed, kicked, and wiggled her little body and contorted it in all sorts of ways while we were trying to get her seated. Then, in her rage, she even pulled my hair!
It was not a great day to leave my hair down, I'll tell you that…
No one could miss us. We were those parents… I'm sure all the other parents felt sorry for us. Those that didn't have kids probably swore that when and if they ever did, there would be no way in hell their kid would be allowed to act like that! Haha. But there we were… not making eye contact with anyone because they were all staring at our toddler girl, Kari.
You would think I would be embarrassed, but I was mostly surprised! All of this hit me totally off guard. It was right then and there that it hit me that we've just entered a new stage with Kari… and it's clear that she's an almost-2- year-old. A terrible-two's, tantrum-throwing-piece-of-human who is about to make us her little b****… I don't even say that word out loud, but is there a better way to describe how raising a spirited toddler feels? NO.
Sometimes I feel like I have no tricks left to pull out of my pockets with Kari. Like none. She's way too smart for me at times! And too advanced in her understanding of life. She's a toddler unlike any other toddler I've ever encountered before… and she's mine. She's this tiny little person with an extremely loud roar. She wants what she wants and she will knock down any walls (we're usually the walls) in her way. That is Kari. And the tantrum she threw? Oh it was epic and it wore me out…
And to think, we had JUST stepped foot in NY not even a solid 15 minutes.
As she sat in her stroller screaming her little lungs out, I wanted to join her and do some screaming of my own. Mostly at myself though… because I was now a whole bus ride away from home – where I probably should have stayed to begin with!
What was I expecting? Did I think this trip was going to actually be easy? WITH A BUSY TODDLER? Was I living in a bubble? People don't call this stage "terrible twos" for nothing, you know! I should have searched deep within my memory bank and remembered when I was a mom to a toddler before. Did I forget? Do I remember now?
My other two toddlers NEVER screamed like her though. They didn't throw tantrums like hers either and if they did, I probably won't remember. But speaking of memory, Kari has a memory like no other. If you hurt her feelings in a any way, she lets you know that she remembers. And on this day, she felt it was her right to walk around like every other upright human being in Port Authority. And we totally bursted her little toddler bubble. Sorta how she burst mine with her tantrum!
While Kari was still screaming away and showing me how upset she was, I looked at her, Addi, & Zali and all the people hurrying around us and time stood still for a second.
My life has those sobering moments when it hits me "Wow. I'm THEIR mom!" "These are MY kids…"
And in that moment, while looking at them, I noticed Zali's little birthday hat that she decided to wear with her sparkly-ears headband to pretend she was a unicorn. I also noticed Addi's smile when he was trying his best to cheer up his baby sis and how much older he looks now. He's definitely growing into a young man – and looking more and more like his dad with each passing day. And I saw Kari's little feet in her tiny gold shoes and my heart just wanted to explode because she's so cute, you know?
I am overwhelmed with thankfulness for the opportunity to be their mom. Here they were, Addi & Zali, still so excited to head to work with their dad… and in spite of their little sister screaming and them trying to distract her and make her laugh, they both seemed so happy.
In these moments, I find myself remembeing that my energy affects their mood. If I'm stressed out by tantrums and screams and life not going my way, they'll think its okay to handle life that way too. And I rather them see resilience and strength instead of a flustered mom. My thoughts and actions determine their's after all… and so I better make the most of each moment – even in the midst of tantrums and having my bubbles of expectations burst right before my eyes.
Put a smile on my face. Give my screaming toddler a kiss. Reassure her that we hear her. That we understand she's upset. Acknowledge how her siblings are trying to help. Tell them how much I appreciate it. These moments can either make us or break us as a family… and I rather make a memory filled with stories of how Kari threw a tantrum and how we survived it.
I snapped out of my frustrations and told my Zali girl how beautiful she looked and told my son that I think he's the most handsome boy, ever.
And just as I was doing those very things, I had an idea that it might help if I sang a song for toddler girl.
… YES! A SONG! Why didn't I think of that before? "Row Row Row your BOAT!…"
And just like that, little screaming toddler girl smiled and appeared to be enjoying the song…
Only to break out in screams once her eyes met mine again!
So I stopped pushing the stroller to get her a cookie – thinking, "Well, maybe she's hungry?" So I handed her the cookie and not even a second later, that poor cookie went flying!
She was clearly trying to remind me that she was still upset…and it seemed to be AT ME  for putting her in the stroller!
Kari finally calmed down about 5-10 minutes afterwards… but I didn't dare make eye contact with her again until it was safe to take her out of the stroller. But because we were in NYC, with crowds of people hurrying along beside us, the safest place for her was in the stroller.
So I ended up heading to the office with Kari along with Ash and the kids. I didn't want to leave her sitting in the stroller the entire time while strolling around NY so I figured the office was the safest place for her to be so she could stretch her legs and run around and explore like she wanted to.
It became TAKE YOUR FAMILY TO WORK DAY for us. And it actually turned out pretty nice after that eventful start.
The kids enjoyed hanging with Ash while he worked. They drew on the dry erase glass, made artwork, and tested out every chair.
I, however, was extremely BORED. I doodled all over a piece of paper like I was back in school. Hearts everywhere, floral wreaths, and faux calligraphy practice helped distract me for a good 10 minutes. I eventually put my head down for a bit and dozed off. That nap was amazing. I'm sure it was for only a few minutes, but it's been a very long time since I've napped during the day. It was short-lived though because Kari interrupted it with her tugging and requests for "Num Nums." And so I opened my eyes, scooped her up in my lap, and nursed her.
Meanwhile, Ash worked and worked some more…
And as soon as he was done with the tasks at the office, we went to Bryant park with all 3 kids.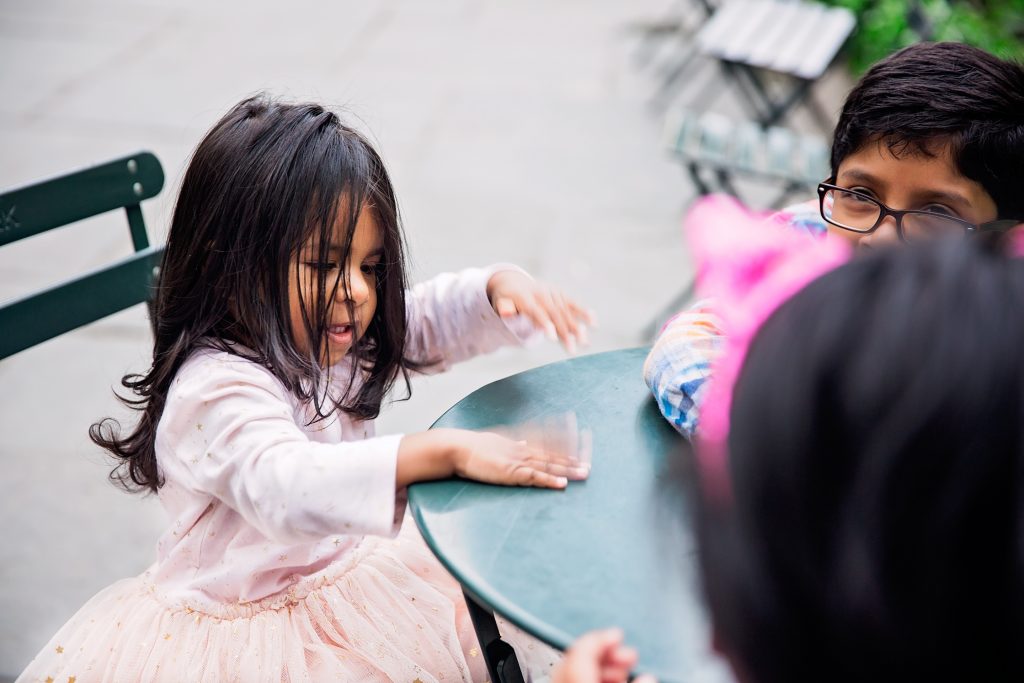 It wasn't long before she got bored and attempted to run off…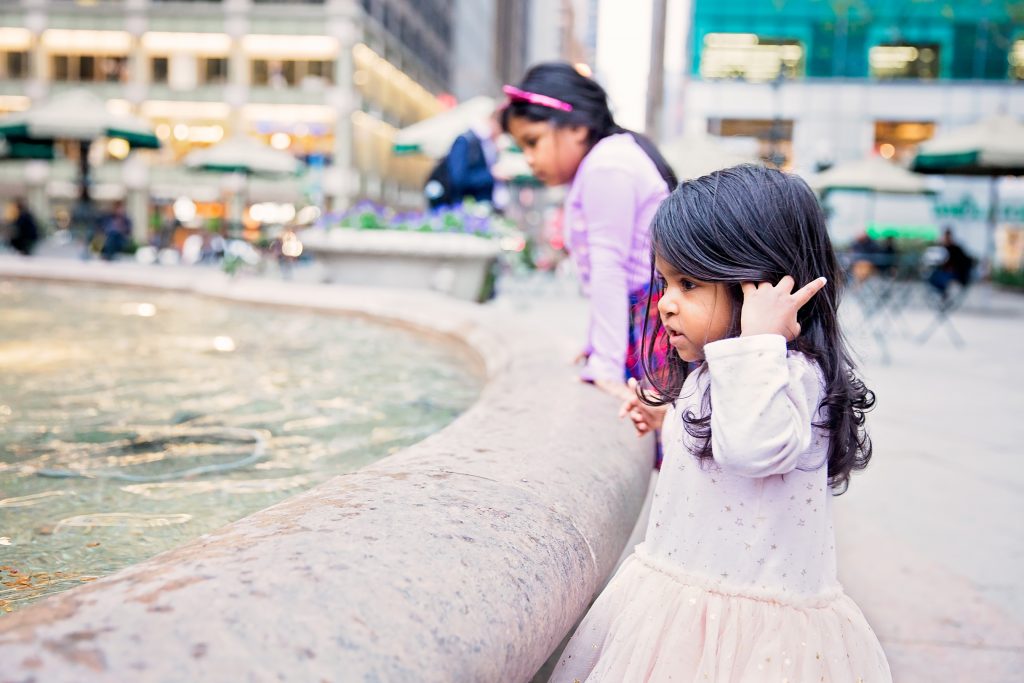 As much fun as we had being together in NYC for Take Your Sons and Daughters to Work Day, I won't be tagging along next year. Just No.
Nope.
Never.
Ever.
Again!
Well, at least not until toddler girl grows out of this stage!
The kids going with their dad was supposed to be sort of a break-day for me as "teacher-mom," but motherhood is never as we plan, is it? Sometimes it's even better than we could've imagined, and some days, your toddler throws a bunch of tantrums when you wish she wouldn't.
But it sure is a blessing being a mom no matter what each day brings. I'll take a tantrum throwing toddler any day because it means we're alive and well. THAT in itself is a blessing that I'm so thankful for. Life is the most precious gift and every moment in it is a chance to really live and take in all the beautiful moments and memories it offers to us.
Hopefully next year Kari will understand the concept of holding hands and we can try this thing out again…  but if not, we'll sleep in and watch Tro-Tro or whatever show she's into then…