Hello to you all!
I hope life has been treating you well. It has been a rough few weeks over here and I'm happy to finally get an opportunity to share this Make It Yourself tutorial for Reusable 100% Cotton Rounds.
These rounds can be used in countless ways! You can use them to remove makeup, as a facial scrub when coupled with face wash, as a nursing pad, or even as baby wipes. Talk about being versatile!
About a month or so ago, my friend, Bertha, from high school, reached out to me. She was curious to know  if I could make her some of these cotton rounds using her infant son's cloth diaper flats. Bertha is all about living a minimalist lifestyle and she focuses on researching healthy alternatives for every day things we normally use that may pose a risk to our environment and/or our health. Her goal is to reduce waste in whatever ways she can and to inform and encourage others to do the same though consuming less and in turn, living more. She's amazing! And I admire her for her efforts to change the world with one conscious decision at a time…
Bertha was originally going to order these cotton rounds from an etsy seller, but thought to reach out to me first and see if I could make them instead since I sewed.
Her gesture and thoughtfulness touched my heart! While speaking with her, it became clear that she loves supporting small businesses and people she knows personally in whatever ways she can. How sweet is she?!? That's what life is all about after all – supporting one another and helping one another to do what we love! Her support meant the world to me. Feel free to check out her brand new blog here or follow her on IG @ ecofitmama.
So… truthfully, these cotton rounds are fairly easy to make.  However, they can be a little time consuming. Because of their circular shape, they require hands-on manipulation while going through the machine… and I found myself having my eyes glued to the needle the whole time…
Tools needed:
Soft Cotton Fabric
100 % cotton thread
Glass jar with a lip that measure 3″ + diameter
Rotary Cutter or Scissor
Pins
Cutting mat
Sewing Machine with an overlock stitch.
Iron
Instructions:
 Draw a 3 inch circle on paper and cut it out. This will be your template.
*Helpful tip*- Use a glass jar with a 3+ inch diameter where the lid screws onto the jar, trace around the opening… and ta-da… a circle!
After cutting out your template, lay it on your fabric and cut through the fabric by using either a rotary cutter or a scissor. I used a rotary cutter. The rotary cutter can damage your cutting mat though due to the angles and curves that are required to cut out the circle, but it's all good because I have plan! There are two sides to my cutting mat so I'll just use the other side when I have to cut out delicate fabrics and such. No biggie!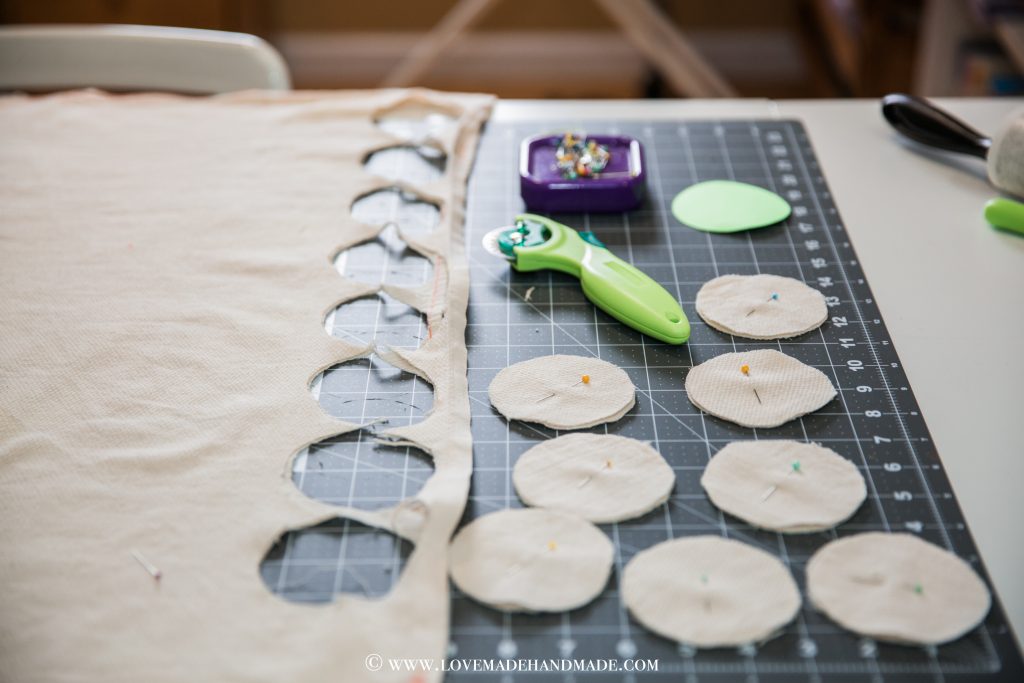 I used pins to secure two pieces of the fabric to make these double layered. The pins kept each round separate from the others so when it was time to sew, I just had to pick it up and sew without worrying if I had 3, 4, or 5 layers of fabric pieces stuck together. This streamlined my work flow and ultimately proved to be a time saver.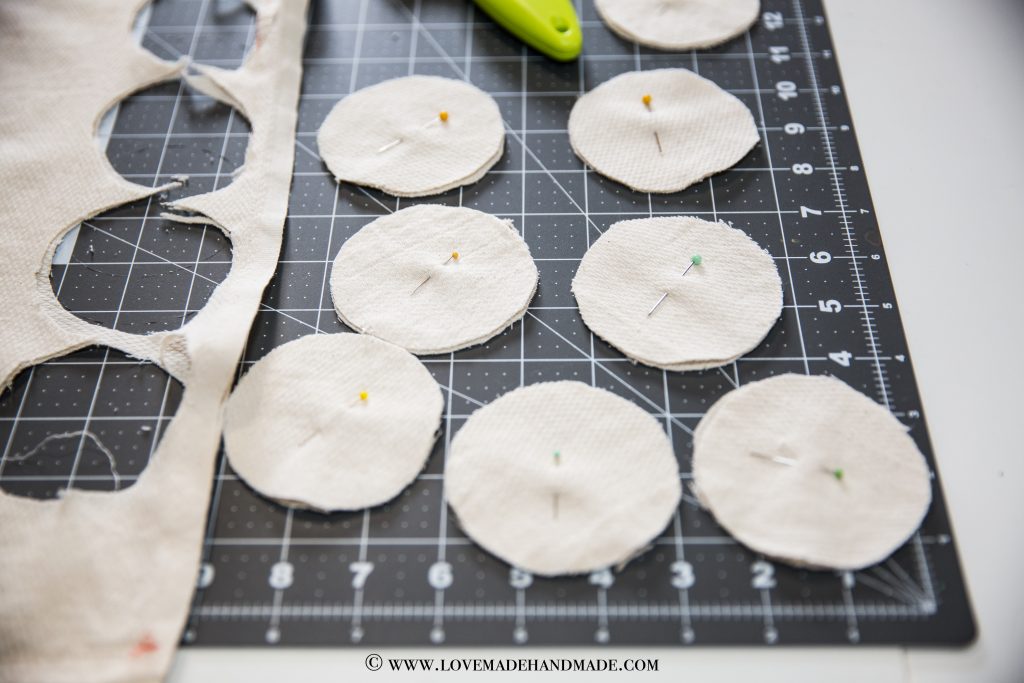 Soon, the rounds started adding up… and I continued cutting until all the fabric was used up!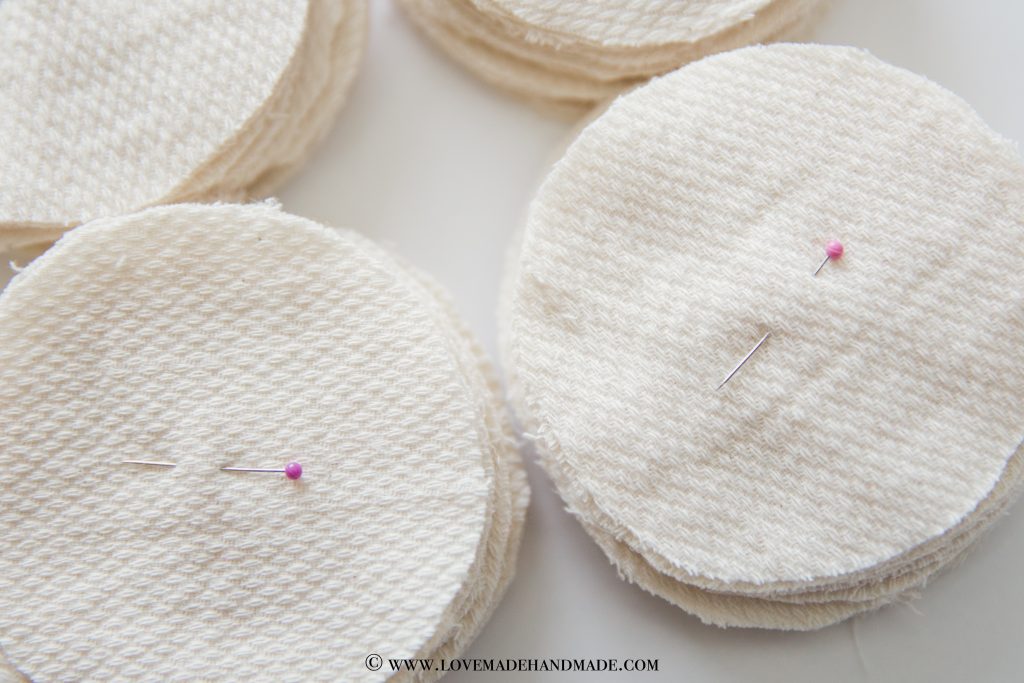 On my machine, I changed my presser feet to the one that I needed to use for an overlock stitch. An overlock stitch is necessary because it prevents the woven fabric from fraying into nothing-ness…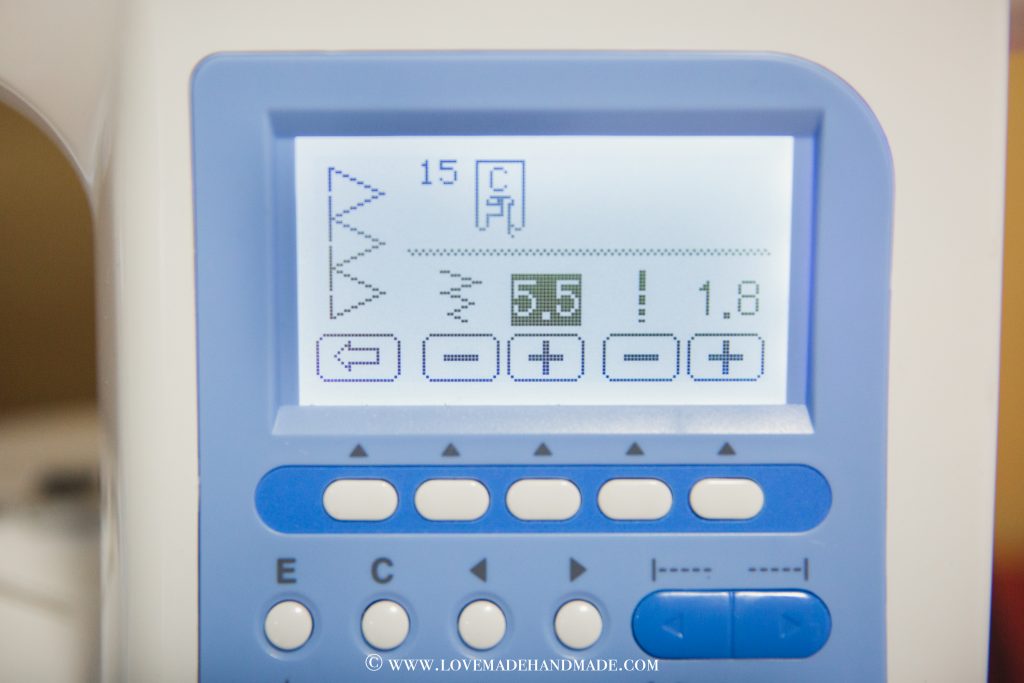 For stitch width, I used a 5.5. And for the stitch length, I set my machine to a 1.8. This was necessary because the closer the stitches, the better job it would do at preventing fraying. And boy does this fabric fray! I stitched over each rounded edge twice – to make sure the rounds wouldn't fray much when it's washed.
If you end up making these, don't forget to rotate your rounds as it's going through the machine to ensure a nice even edge. It's not as easy as it sounds, but it sure is fun trying to master it!
I sewed and sewed… and ended up making 52 of these babies!
After I was done sewing them all up, I had to iron each one to help the thread settle into the fabric and to help flatten out the rounds.  These rounds tend to curl in around the edges so ironing gets rid of that and gives it the shape you're aiming for.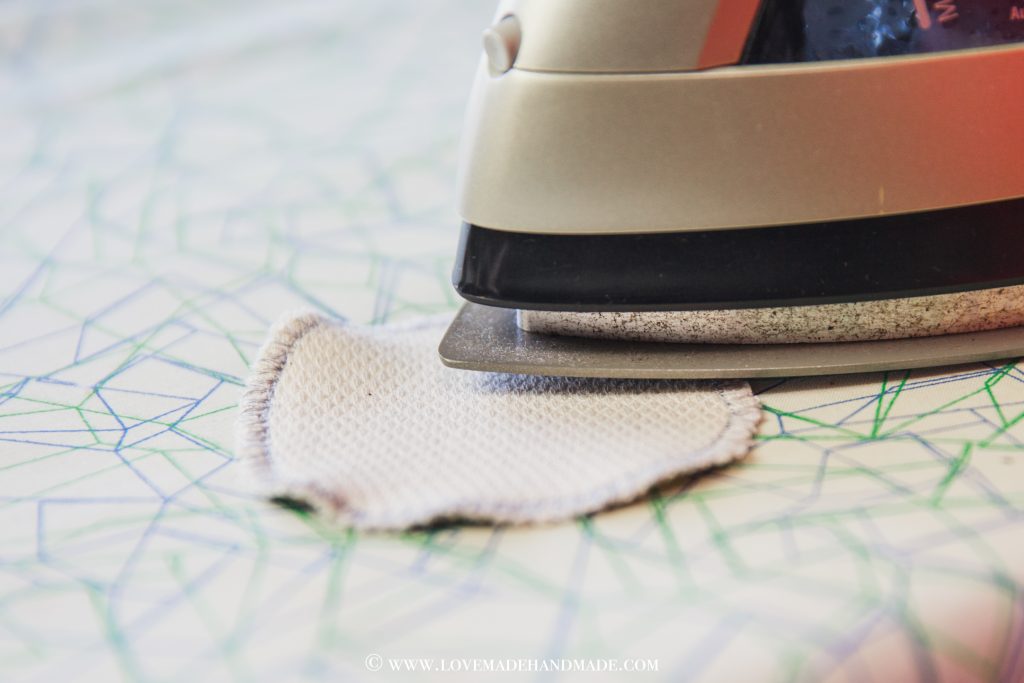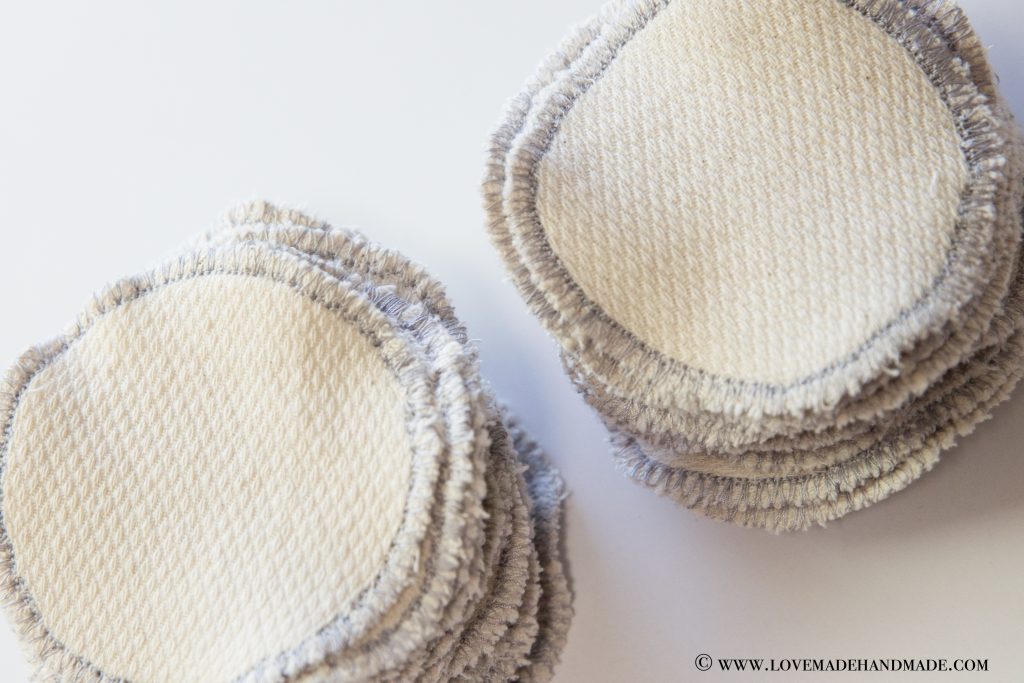 Here are a few pics of the cotton rounds all done and tied with a bow! Don't they look cute? 🙂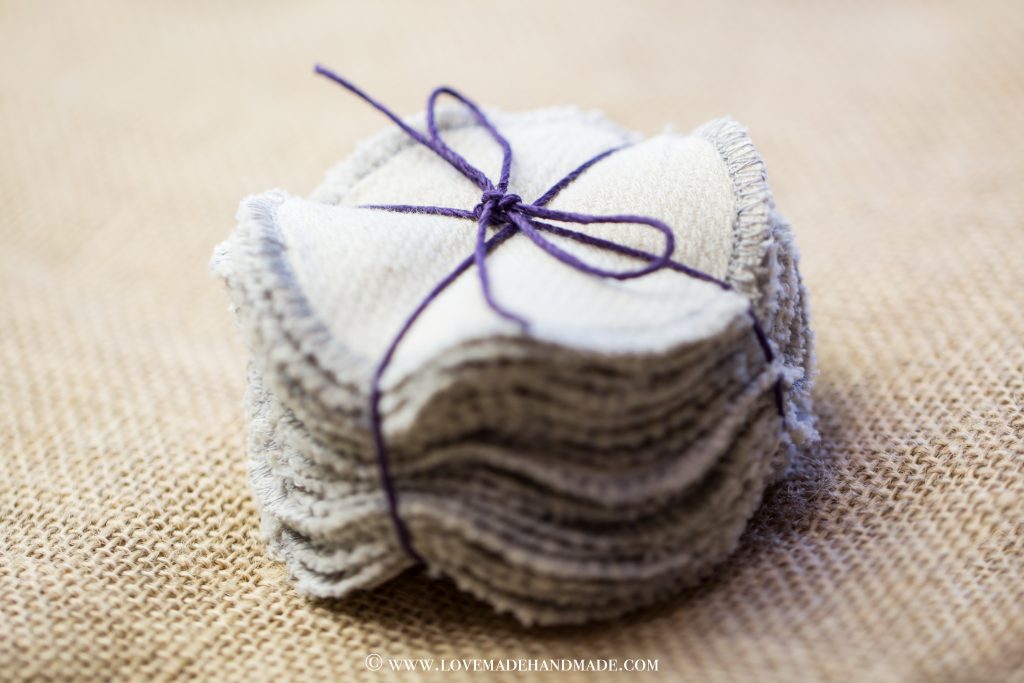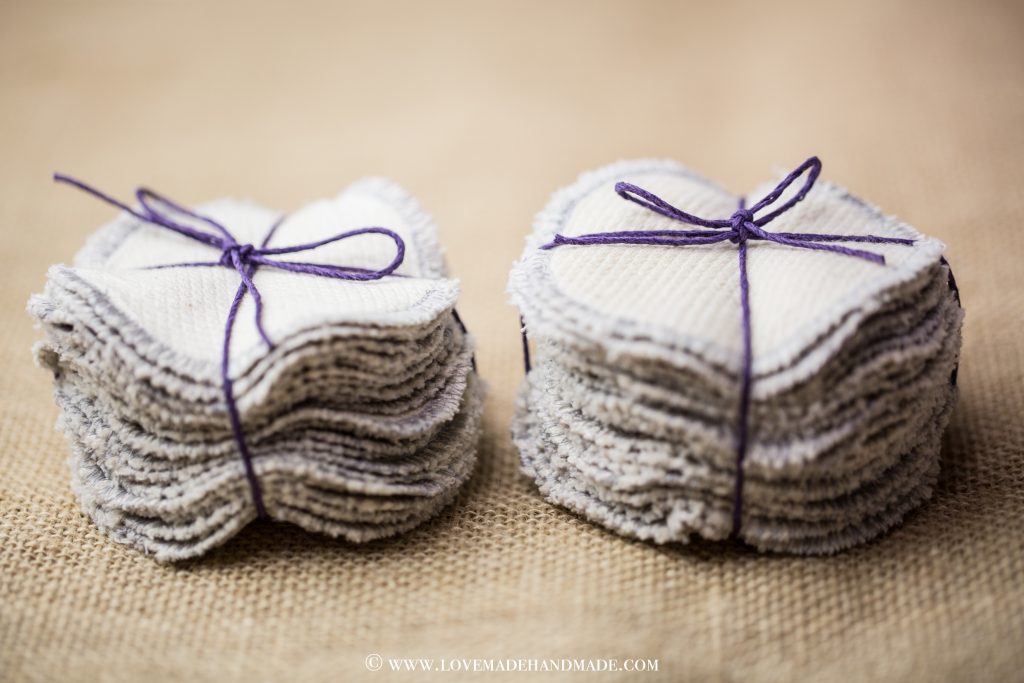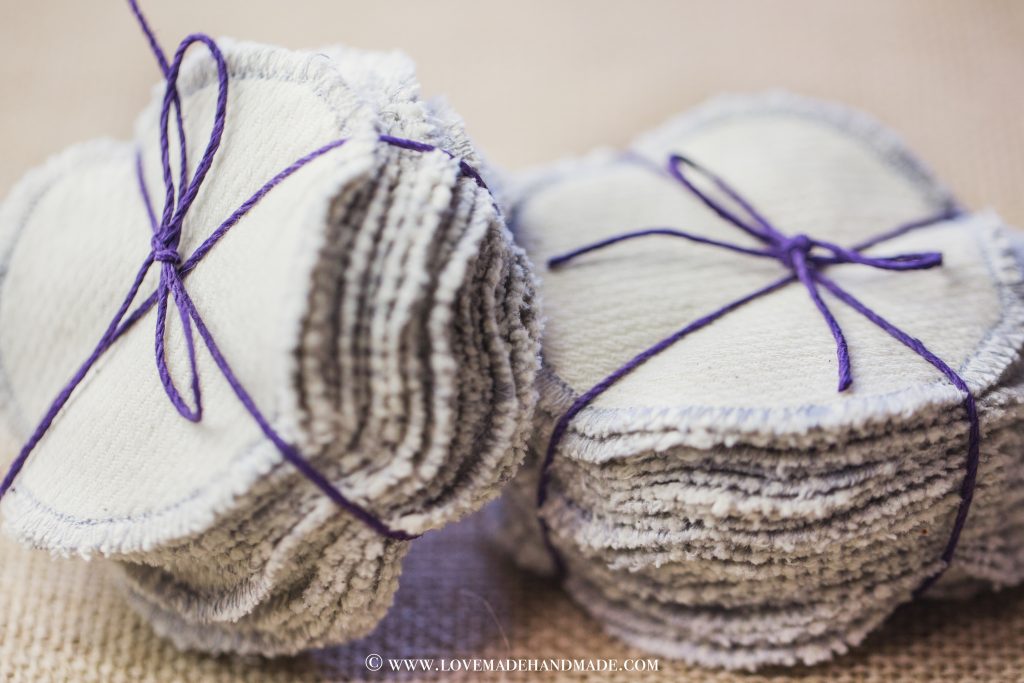 Hope these cotton rounds inspire you to start thinking about ways to reduce waste and begin using eco-friendly items. Whether it's for your home or for your beauty-care needs, we can all think of ways to be conscious about our future purchases. One simple change can reduce trash in our landfills and chemicals in our bodies… and who wouldn't be in favor of that? So why not challenge ourselves to start thinking about these things? And make little changes here and there to reduce, re-use, and recycle…
 Love Always & Happy Sewing,
Karina ♥