My youngest daughter, Kari, turned 2 years old last week. And in honor of her growth, I made her a new dress – A Handmade Pinafore Birthday Dress! And I'm gonna tell you all about it, but first…
I'm in awe at how quickly the years pass by when we welcome a new baby. It's like time speeds up while I'm trying my best to slow it down to savor every little moment. I clearly remember bringing Kari home & I knew it then that time was going to pass by quickly & here we are, 2 years later, and it has definitely passed by waaaay too fast!
We JUST celebrated her 1st birthday and now she's turning TWO?… Why is she growing so fast? And why is it all happening so quickly? Am I having too much fun? Probably! But, I sure do wish she'd stay a baby just a little while longer…
If you're curious to see what we did for Kari's 1st birthday, I shared about it HERE.
This year, I continued the tradition I started 5 years ago and made another handmade birthday dress for my toddler girl! When my oldest daughter, Zali, turned one, I wanted to make her a 1st birthday dress. It was actually her impending birthday that prompted me to learn how to sew all those years ago. (you can read all about that here…)
Every year since then, I've made it my mission to design something new for her or her siblings on their birthdays. And it's been loads of fun!
I look forward to the whole process. Buying and caring for new fabrics, hand washing them if I have to, dying if need be, or pressing them to get them ready for cutting and garment construction. I've learned to embrace it all & not to rush through it because, after all, the joy is in the process!
However, though I know that I should start birthday dresses months in advanced, I often don't because my ideas are always changing & I like making it closest to the actual birthday so I can reminisce on where I was 1, or 2, or 3 + years prior while waiting for my sweet little baby to enter the world. I get all nostalgic and amazed at how seasons change, babies grow, and life evolves. Plus, when my time is limited, I am forced to make decisions & stick to them instead of entertaining a million and one "what if's."
I often have soooo many ideas swirling around in this head of mine &  it's difficult at times for me to narrow them down when I love them all. Do you ever struggle with that? Wanting pretty closures and ruffles and bows and all the fancy seams? And the never-ending desire to try out new techniques? I sure do!
However, I'm realizing now that I definitely need to start planning & finalizing ideas for projects way in advance. I'm working on developing some sort of system to be able to sew consistently and blog about it all while staying on top of everything else I manage when the day comes. This mommin' stuff aint easy… and the days sometimes seem too short for all I want to do!
My husband was actually away on a business trip the whole week prior to my daughter's 2nd birthday so I took the liberty of drafting up the pattern and sewing it all up while he was gone. I was surprised with how quickly it came together & I was even more amazed at the the amount of "free" time I had because he wasn't around.
It dawned on me just how much actual work our marriage entails and the amount of consideration I give to  his thoughts and desires when he's around. I kept asking myself how it was possible to cook, clean, school the kids, bathe the kids, and do everything else for them AND STILL HAVE TIME TO  DRAFT UP PATTERNS & SEW… because when he's around, my evenings feel so full!
The only logical explanation I could come up with was that relationships, like our marriage, require a daily dose of attention & that attention usually takes up a portion of our time. Whether it's evening walks with our kids or lounging together as we watch our favorite T.V. shows – we definitely make quality time with one another a priority. Naturally, other things fall to the wayside. And that's alright! We just celebrated our 10th wedding anniversary on 7/7 & I truly believe the time we spend together helped us get here.
It's a balancing act of sorts – motherhood, marriage, and managing our home… and then trying to squeeze in time to do the other things I enjoy.  I'm taking opportunities as they come, one day at a time. And making sure not drop the ball on the most important aspects of my life – like family-time, homemaking, and homeschooling. Because it all matters.
Okay so back to the dresses:
I spent moments during the day cutting out the fabric and then stitching it all up. Everything from start to finish took 2 days max… and it wasn't even full days! It was stolen moments here and there in the midst everything else I was doing.
Did I mention that I drafted TWO separate patterns? One for my 2 year old & one for my 5 year old? And I managed to sew them both up before Kari's big day? Well, that's what I did. And I totally impressed myself!
When my oldest daughter saw the birthday dress I was making for her baby sister, Kari, she asked if I could make her one too… and I couldn't tell her no. Well, I'm lying – I definitely tried to! I didn't have any thread to perfectly match the lilac linen fabric that she wanted, but she didn't mind at all so I had no choice but to draft up a pattern for her as well. And she was just so excited about it! Seeing her excitement gave me life and new energy to get it done – as fast as possible! And I actually did it – even with my toddler latched on to my boob and tugging at me throughout what seemed like the entire pattern-making process… but I did it! Yay!
MOM POWER!
Being that these dresses were self drafted, I also had to come up with the sewing order and all of that on my own. Talk about an adrenaline rush!
The whole experience reminded me of when I first started sewing – having to figure out a bunch of things all at once & not stopping until I did. It was nuts! My brain wanted to explode while I was doing it because I had to keep my thoughts in order, write them down, and make sure I kept 3 humans alive in the process… You know how "mom life" goes.
The dresses came together effortlessly though. A quick & easy sew. If you're a new seamstress, give it a go! It allows you to practice a bunch of cool skills like gathering fabric, making buttonholes, sewing on buttons, making an elastic casing… ALL the things that make sewing FUN!
Get ready for pictures overload! 🙂
This post isn't meant to be a tutorial… more of a brief explanation. If you'd benefit from a tutorial, let me know and I'll do it! I plan on making a bunch of these.
Fabric & Fabric Care
Fabric: (55%) linen & (45%) rayon blend; Lightweight.
I hand-washed it & dried it on low – even though it was recommended to lay it flat while drying. I just couldn't find any place in my home to lay all of that fabric flat when it was drenched in water. You're not supposed  to wring it (something about rayon fibers being extremely delicate when wet…)
Using the "make it work" approach, I chose to treat the fabric the way I planned on treating the garment after it was made – so I just hand washed it and dried it on low. And plus, if this was extremely expensive fabric, I wouldn't have risked it, I would have laid it flat or dry cleaned it, but at about $8/yard, I was okay with experimenting & it turned out fine for me!
I used a pink shade for my toddler girl's dress and the lilac shade for my 5 year old.
Pinafore Pattern Pieces:
As you can see from the photo below, the pattern pieces for the dresses are pretty simple – a piece of fabric big enough to cover the chest for the bodice, rectangular pieces for the straps and waistband…and a bow shaped piece of fabric to make into the bow. The skirt is simply gathered (as mentioned above).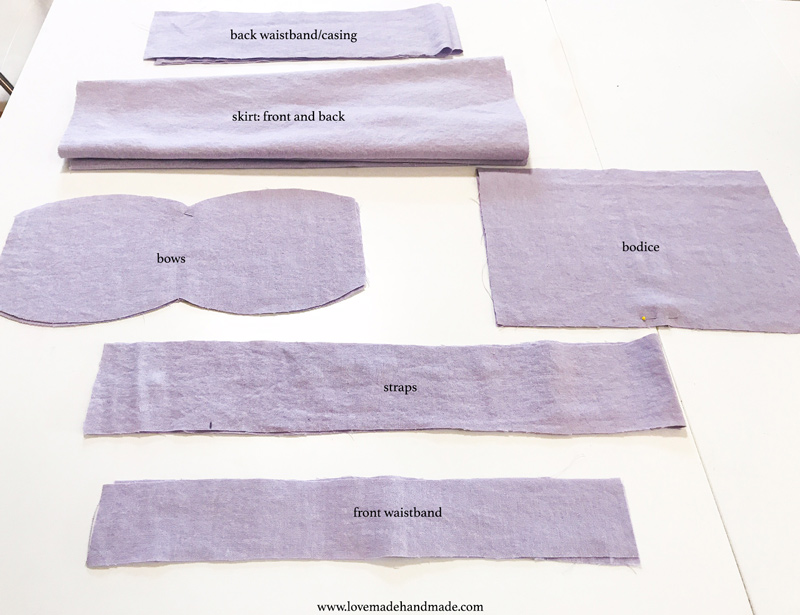 Last minute fit modifications
I made a modification to my 5 year old's bodice though – she needed more of a trapezoidal shape to prevent gaping at the neckline so I sewed two small darts close to where the straps and neckline met. After I did that, it fit perfectly!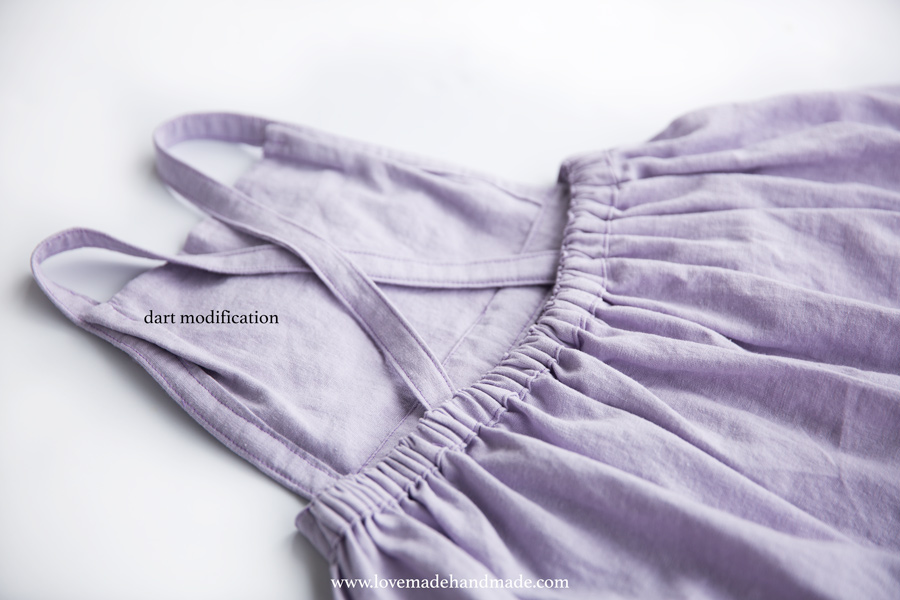 Bows !!!
A picture of the bodice before I sewed on the straps:
Construction Process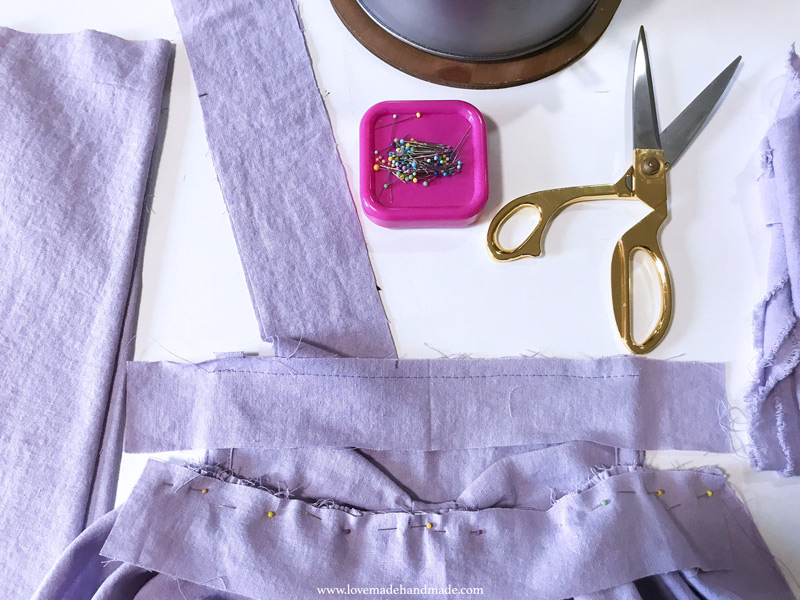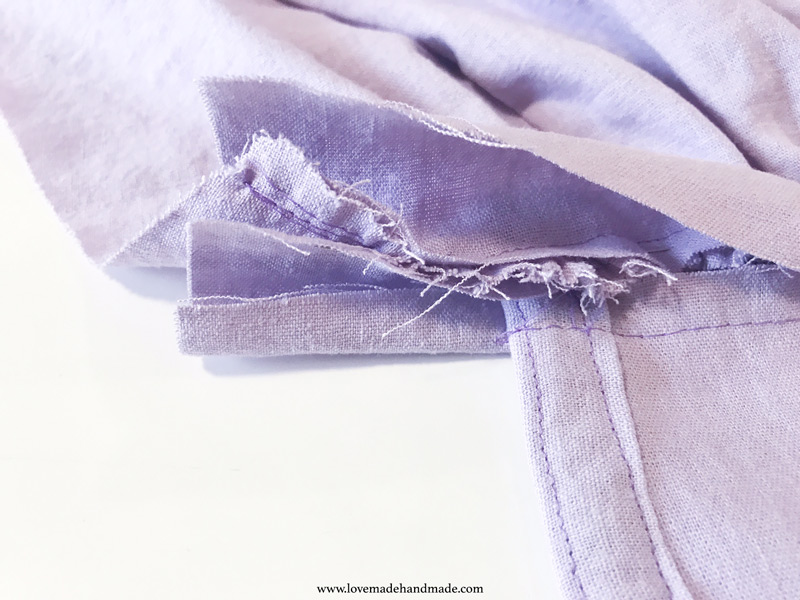 Back of Dress
The back of the dress was similar to the front, but easier to construct. I only had to attach the waistband to the skirt, fold the casing fabric piece over to make the casing, topstitch, and then feed the elastic (1/2 of the waist measurement + seam allowance) through. The elastic gathered up the skirt nicely! The only thing left to do was sew up the side seams, hem the skirt, make the button holes on the straps, and hand-stitch the buttons onto the back casing.
And it was all easy-peasy!  I love these dresses soooo much. I'm tempted to make hundreds of them with matching floral crowns…
I planned on making new floral crowns to match these dresses, but I soon realized that a crown I made last year for my sister's graduation photoshoot matched perfectly with the dress I made for Zali & it fit her too! And Kari's floral crown from her 1st birthday photoshoot matched perfectly with her new dress as well & still fit her – perks of making things yourself! Last year, I made it a tiny bit bigger just in case she had a sudden growth spurt & a year later, it worked in my favor!  I was ecstatic… less work for me!
So without further ado, here are the Handmade Pinafore Dresses…
Handmade Pinafore Dress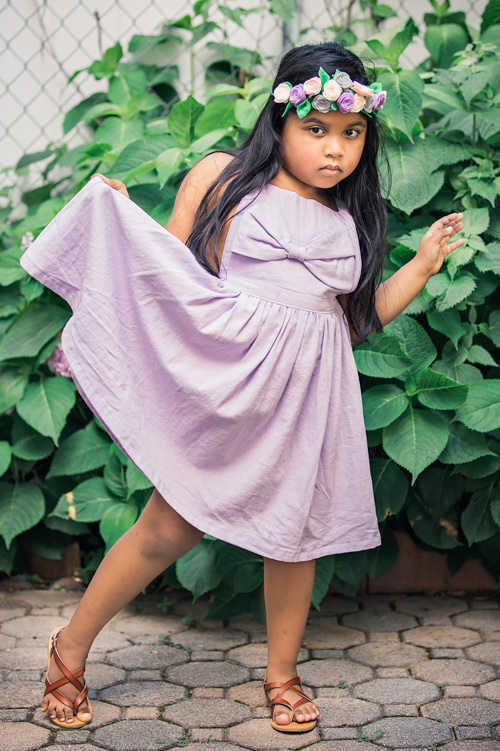 Love Always & Happy Sewing,
Karina


Please Subscribe to my blog & feel free to follow me on social media:
Facebook: www.facebook.com/lovemadehandmade
Pinterest: www.pinterest.com/lovemadeblog
Instagram: Sewing/Crafts/DIY's @www.instagram.com/lovemade_handmade
Instagram: Homeschooling & Mom life @ www.instagram.com/lovemade_life