I can't believe it's been almost a year since we pulled off this DIY 1st Birthday photoshoot and Cake Smash for our littlest princess!
For months I planned and prepared for this.  And I, of course, made sure to have as many handmade touches as possible…
I designed & sewed the dress, made the flower crown, baked and decorated the birthday cake, made the cake-topper… and envisioned a scene perfect for the littlest princess in our family.  She is, after all, our rainbow baby, and true-life dream come true, but that's a story for another day.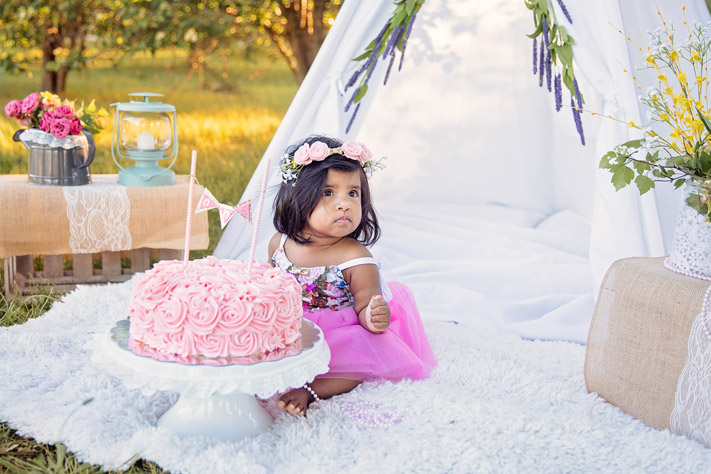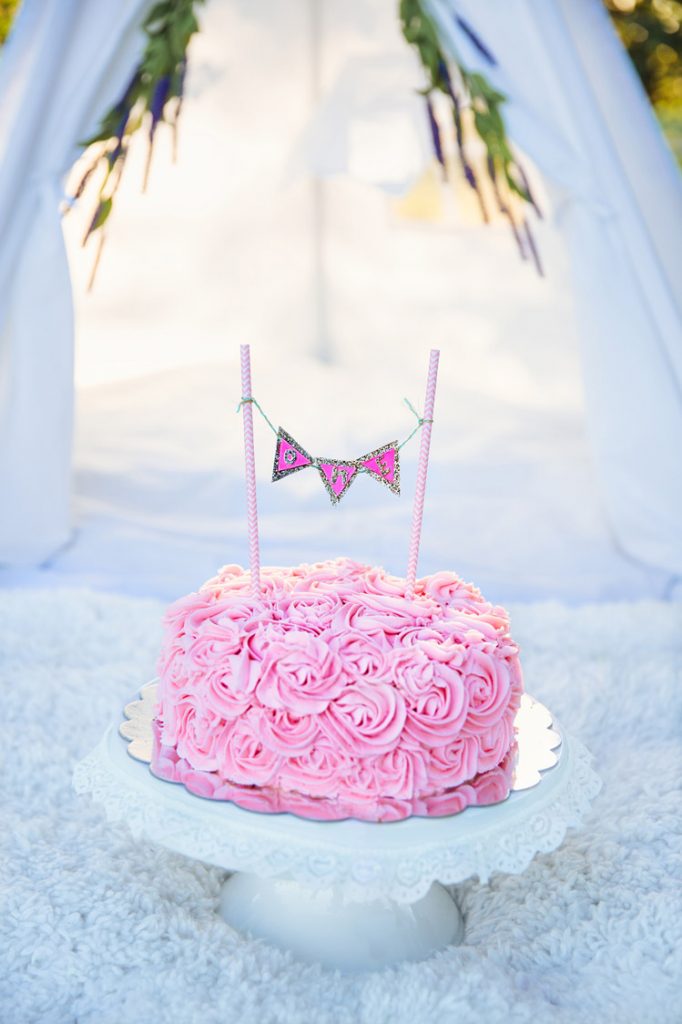 I've done a few cake smashes in the past, but none compared to this one!  This was my 1st cake smash as a mom since I never had one for my 2 older kids… AND I planned on photographing it.  The whole process wasn't easy, and I knew it wasn't going to be, but I think that's what made it all the more pleasurable when everything started coming together.
Preparation – The Night Before
I stayed up most of the night before the actual cake smash putting the finishing touches on baby girl's dress, baking the cake, and making the frosting for said cake. It was exhausting, but I still hadn't made her floral birthday crown so I kept on working!  I know I was likely going to sacrifice sleep that night.
It would have been great if I had gotten the dress sewn and birthday crown completed weeks in advance, but that's just not my style. I tend to work best under pressure so I rolled with it. My husband said to me (during all my prepping) that I was the only person he knows that tries to do everything I possibly can, all by myself, for special occasions like these. I did it for our wedding, almost 10 years ago… and I guess he clearly remembers! Haha! And I can't even begin to number the many times I've attempted to do it throughout the years.
It's exhilarating and fulfilling… and lets me practice whatever new skills I've learned throughout the years. I'm sure I'm not the only woman or mom like this. Or am I? I highly doubt it!
Along with the cake and attire, I had to prepare the decor, photography gear, and countless miscellaneous items for transporting to the park.  If all that wasn't enough, the morning of the cake smash, I had to wake up and get our 3 kids ready for the day since they had a birthday party to attend at another park that day as well. I truly don't remember where my husband was or what he was doing that caused me to have to get the kids ready, but I'm sure I probably had him running around for something. Talk about action-packed!!!  No biggie though – as you can see, we survived… and I lived to tell about it.
If you are interested in how you can pull this off as well, keep reading. Below are some of the key elements to consider when planning a DIY 1st Birthday & Cake Smash Photoshoot.
Create a Timeline
Build a timeline of events for the actual day. Don't miss any details. Plan to shower. Plan to brush your teeth. It gets so hectic that you might consider skipping it so plan for it and make time to care for yourself in the midst of all there is to do. If you have children, plan to care for them as well. Don't neglect the most important responsibilities to pull off something like this.
You will be much happier looking back on it when the most important elements of your daily life are factored in and wasn't sacrificed for pictures.  In the end, those pictures will remind you of a story much deeper than you can ever display so make it a good one.  Some simple planning will help with this. I am happy that when I think back on this day, I feel proud of a successful execution. The only thing I sacrificed was a few hours of sleep… and that was it! My kids were taken care of and I showered and cared for myself as well. I think that's a win!
Secure volunteers

I knew I would need many assistants for the photoshoot so I made sure to secure them.  My mom, dad, and sister willingly volunteered to be there to help if we needed it… and boy did we!   If you ever plan on doing something like this yourself – good luck!!! And if I can offer any advice, it's simply to have as many hands on deck. You can't possibly predict all that could happen and the more help, the better.
Envision the scene
What items or decor do you want to showcase? What will baby wear? Do you know the direction of the sunset? Where will you set up? How long will you need to set up everything so it looks perfect? Think about all of this. Will you order the cake, or make the cake? If so, pick a cake suitable to your taste & your decor. Make sure it represents your baby and his or her personality.
Photography gear
I shot this with a 5D Mark III camera and 24-70mm 2.8 lens.  Even if you don't own professional camera equipment, you can still do this! However, I wouldn't recommend you use a camera phone. Babies move around lot & they are swift little things… and if you don't have a camera with adjustable shutter speed, many of your images will end up blurry.  No one wants that – especially for all the effort and planning this whole thing entails. Consider renting a camera and lens if you can't currently afford one to purchase, but only do this if you know the basics of photography and how to shoot in manual mode.
Setting up
We hauled all of our equipment from the car to our spot in the park with our jogging stroller. We tried to pick a place that wasn't too far from the car since we were carrying a cake, a teepee, and all of the decorations. I also made sure to set up the teepee so the sunset was BEHIND it. If you are blessed to have a backyard, consider doing it there… cake smashes can get messy if your kid likes cake – mine wasn't too fond of it so we lucked out. Check out her reaction in the pictures below. Hilarious!
Photo editing
I edited these images with Lightroom and Photoshop. They looked beautiful with just Lightroom edits, but I do feel as though Photoshop offers a nicer final touch to each image so I ran them through both.  If you don't have Lightroom or Photoshop, there are sites like PicMonkey that can make photo editing simple and fun.
Real Talk – How we pulled it off!
The evening when I took these pictures was unexpectedly cold and windy and we had no idea that the temperature would quickly drop to the lower 60's and the windspeed would be reach over 25mph!
My plan was to complete this photoshoot in as little time as possible. We were using the sunset as our natural light and it was getting too chilly to have baby girl in a sleeveless dress. We were racing against the sun, literally, and now, the wind, and had to pour all of our energy into it quickly to get some decent shots.
My "assistants" were amazing and deserve all the praises in the world for helping me pull this off . They positioned Kari for me and picked up the teepee when it fell over for the millionth time. They even fixed the flowers and restyled the scene more than we ever anticipated.
My mom was behind me singing songs and trying her best to get Kari's attention because Kari kept cry-crawling to me… makes total sense as she's my little hip monkey.
Ash kept re-assembling the tee-pee & picking it off the floor since the wind kept blowing it down. And when he wasnt busy doing that every 3 minutes, he was shouting and dancing and acting like a silly monkey behind me, along with my mom, to get Kari to laugh…
My dad was behind us all flying kites with Addi and Zali (great kite-flying weather by the way…) to keep them distracted and occupied while Ash & I focused on baby girl. If it wasn't for my dad's entertainment, it would be "Mom…" this and "Mom…" that.
And my sister (may God bless her greatly) was there helping me with any quick requests I had.. like, "Can you get the cake and put it right there again?" "Can you fix the flowers?" or "uhhh, can you pick up those flowers AGAIN, pleeeeease?"
I seriously couldn't do this  without them! So thankful they were all there to help me capture these images of Kari-Anna. It truly takes a village to raise a child and I'm extremely grateful for all the people that make up my little village. I am so grateful to my husband and parents for always being there to lend a helping hand and putting up with all my shenanigans. You guys rock, big time!
Now, a short letter to my little star of the day…
Kari-Anna, my sweet baby girl… your life has changed mine in so many beautiful ways. I am more of who I want to be, need to be, and hoped to be because of you… and it is a privilege to be your mom. I love you. And I pray that the Lord continues to bless you every single day of your life.  I pray that you realize soon just how important a relationship with Him is and come to the realization that 0ut of any thing you can attain in life, knowing that there is a God who loves you, cares for you, and wants the best for you, is all the knowledge you will ever need. Depend on him & Trust in him.
I love you, baby! 
-Mom


If you would like to check out more of our photography shoots that we've done throughout the years, head over to our photography website at Perfect Seven Pictures.