Hey y'all!
I finally finished my 30th Birthday Dress… Yay! Let the heavens rejoice! And I'm FINALLY sharing about it on here.
It feels like it's taken me FOREVER… and I'm so excited to share some of the process with you all.
If you follow me on my sewing/craft instagram, you probably saw a bit of the process already, but in case you don't follow me on there (…yet? 🙂 ), I'll share about some of it right here in this blog post.
It all started the weekend before my birthday. Truthfully, I thought I could finish this dress THAT weekend. What was I thinking?!?!?
I must've forgotten that I'm a giant KID magnet and my kids just love me. I can't complain though because I absolutely LOOOOOOVE them too and I tend to give into their requests for snuggles and cuddles – even while I'm trying to sew.
And somewhere along the way, summer took over and I indulged in birthday celebrations, day-dates with friends, date nights with my handsome hubby, weekends at the beach, and my fair share of house & homeschooling- school-year-prep.
So it's all led to here, this marvelous moment of me finally sharing my 100% self-drafted & designed, 30th birthday dress.
This little project was a long time coming. Ever since I gave birth to my 1st daughter in 2011 and ventured down the road of breastfeeding, I've been quite frustrated over how much my style has changed & how much of it I've had to sacrifice. If you've been or am currently a nursing mom, I'm sure you can relate. There are some cute "nursing friendly" clothes out there, but they're all either in knit fabric or drafted for B-cups… and I'm NOT A B CUP. I'm somewhere between a D and DD while nursing so there was no way my regular size smalls could fit over my chest comfortably.
My process
So, for this dress, I draped it on my dress form… and altered it to fit my body. I made sure my horizontal measurements were correct first and then checked the vertical measurements. My shoulder to apex measurement indicated that I needed to do a Full Bust Adjustment (FBA)… and so I did… and I was mind-blown! 
If you've never done one, you may not understand the mind-blowing experience, but let me tell you…it was LIFE CHANGING! Literally!
From the moment I pinned my darts closed and held it up against my body, I was like "WHOA! NOW THAT'S A GOOD FIT!!!"
Once I saw that the bodice fit across my bust, I proceeded with a rush of confidence to finish all other aspects of altering the pattern that I draped before moving on.
I shifted darts to point towards, but not exactly up to the apex of my bust… and decided on a fuller skirt instead of the pencil skirt I initially thought I wanted.
I paid extra attention to making sure my dress wasn't too tight anywhere & then made a muslin. Believe it or not, I made a total of 3 muslins before cutting into my fashion fabric! This was the very first dress I ever made for myself so I was pretty scared the whole way through… scared of messing up or making a huge mistake somewhere along the way. And even though I didn't, it was pretty intense up until it was completed. My biggest fear, I think, was doing all this work and it didn't fit…
The 1st muslin indicated that I was way too generous with excess fabric. I always am. I remember when I made my 1st pillowcase dress 5 years ago, my daughter was drowning in fabric. The second muslin indicated that I needed to shorten my Center Back and take in a little more at the side seams. And then I made a 3rd muslin… and that one indicated that the fit was pretty comfortable and I could move forward.
…So I did!

End result
My dress is a button down, semi-fitted bodice with a full skirt and 3/4 sleeves. I used binding at the neckline… and only the skirt is lined with the same fabric.
And it's the most comfortable dress I currently own! I love knowing my buttons aren't going to pop open and that I'm not wearing clothes that are too big everywhere else besides by my bust. I'm pretty short… 4'10" so size small fit me fine mostly everywhere except for my chest area. I refuse to buy mediums because they're way too big at my shoulders, and I just look frumpy in them. Not cool!
Since I've kept you waiting long enough… here's my dress! Super proud that I was able to make it fit MY body.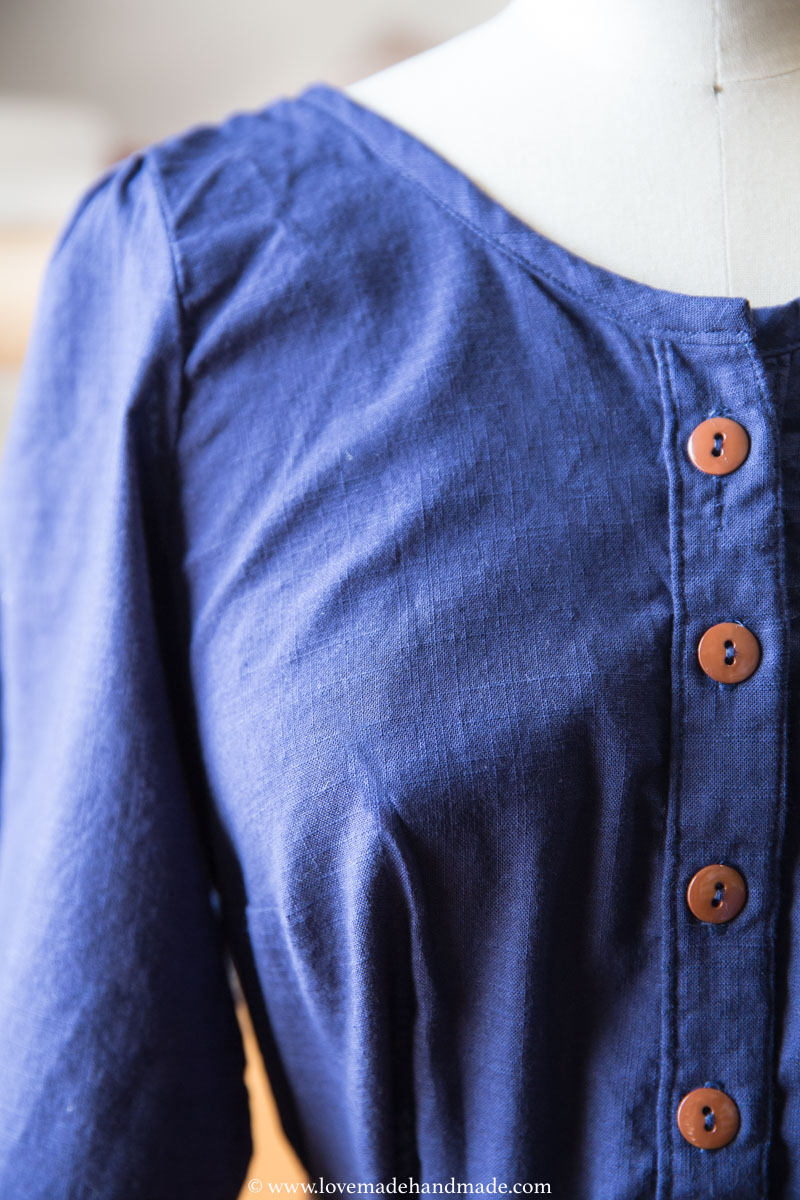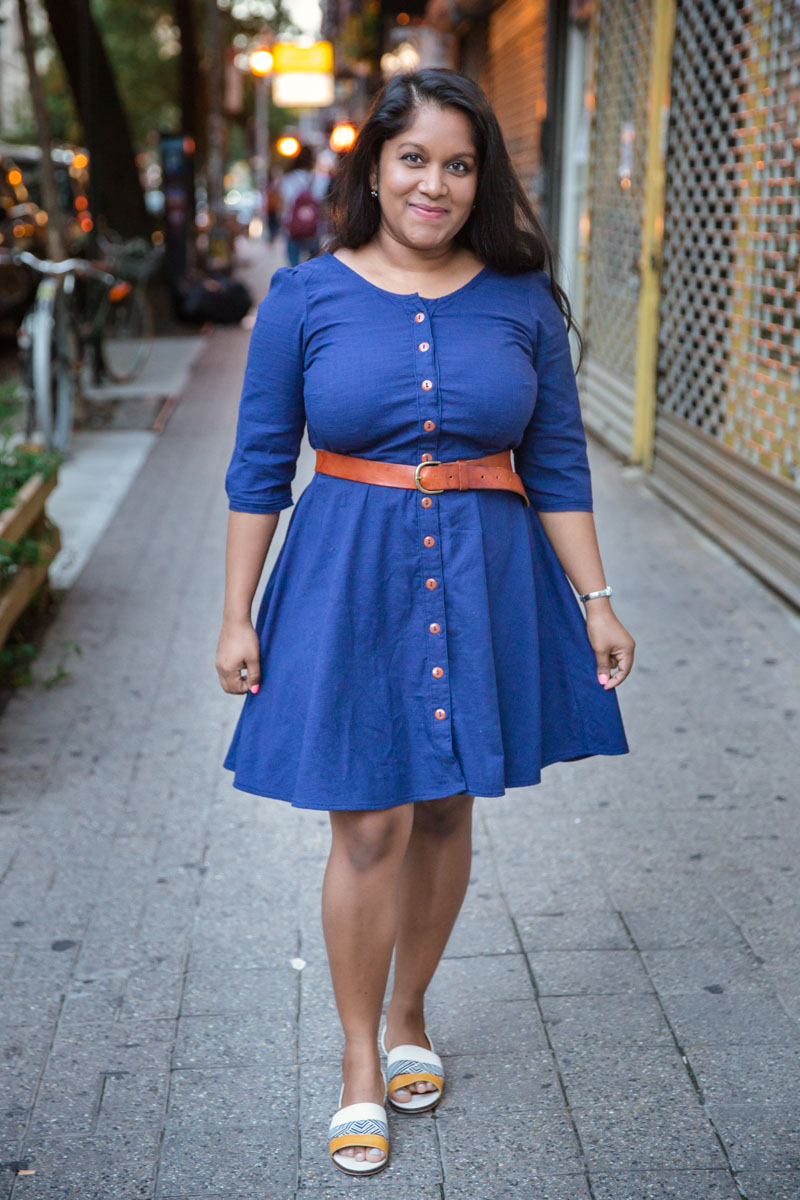 Happy living, loving, and making,
Karina @