When I launched this blog earlier this year, I longed to share about all the major milestones in my Lovemade & Handmade life whenever I could.  I feel like I have been doing that, but the milestones are happening quickly and sometimes simultaneously so sharing about it ALL is proving to be a bit of a challenge. Life isn't pausing for me to blog about it, you know?
But that's all good, no? Life shouldn't be so predictable anyways… that's what makes it fun!
So, here I am, a few days late in telling you about this amazing opportunity I recently got to be a part of. I got to be a pattern-tester for Handmaiden's Cottage for their new Alivia Dress! Yay! My first pattern-testing experience… talk about a MAJOR milestone! For me, at least…
I loved it! It was so interesting seeing some of the hard work that releasing a new sewing pattern entails. It sure isn't easy! There's so much as a pattern-maker to keep in mind and double check… and that's where us pattern testers come in.
Testing the pattern meant reviewing all the instructions, charts, and the construction steps and noting any of my concerns. Then I made the garment following the instructions as closely as possible. During the whole process of making the garment, I noted any questions or roadblocks.
For the Alivia Dress, there were no major roadblocks. There are pictures to help understand the written instructions & allows the dress to come together quite quickly!  It is well-designed and an easy-to-make dress from start to finish. The steps were clear, and the finished dress is well-made in all aspects.
To be honest, I'm usually not a fan of collars – of any sort! However, on this darling little dress I made for my daughter using The Alivia Dress Pattern, I fell in love with the scalloped edges & the whole vintage-inspired look. It has a charming princess touch that I wasn't sure I'd like until I saw it.
The Alivia Dress is now available for girls from size 6 months through 12 years. And right now, you can get the PDF sewing pattern for just $5.00! A complete steal if you ask me because it's absolutely worth it! 
This is a dress pattern you can use to make countless dress designs for now and years to come as your little girls grow. Add a collar or not – it's your choice! Buttons down the back or the front… it's totally up to you! Lace edging on the collar and overskirt? You can do that too! Sleeveless, puff sleeve or 3/4 length… if you can imagine it, you can probably use this dress pattern for it.
As a bonus, when you purchase the PDF pattern, you will gain access to the upcoming Sew Along (starting September 18th 2017) to help with pattern construction when making your very own Alivia Dress. Isn't that wonderful? I think it is…
Here's my version of the Alivia Dress I made while pattern-testing. I made a size 2T for my petite 2 year old daughter, Kari.  She has ample room to grow and I anticipate it lasting her for quite some time. The sash at the waist helps the dress to fit her well even as she continues to grow – which I love!
To purchase your own Alivia PDF Dress Pattern click here.
Looking for some more Alivia inspiration? Check out these gorgeous versions from fellow testers & bloggers: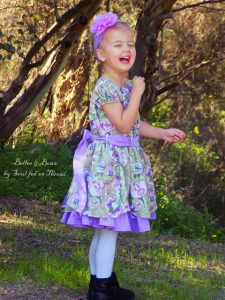 Amy @ Anna's Heirloom Boutique
And I sure do hope you enjoy sewing the Alivia Dress as much as we did!
Happy Living, Loving, and Making…
Karina @