Hey there!
I hope you enjoyed your Thanksgiving and had the opportunity to spend some quality time with your loved ones.
At my home, we have a little holiday tradition where my parents & siblings come over to our place after Thanksgiving dinner and spend the night. We play games, eat more delicious food, watch movies… and settle in like little bears getting ready for winter. It's quite memorable! And I look forward to it all year long & this year was no different.
However, in my efforts to sew as often as possible and not wait for "the perfect moments," I ended up stealing minutes here and there to plug myself into finishing up a pattern test. While everyone was making up their minds whether or not to go see Thor Ragnarock in the theaters, I was busy sewing away. Don't be fooled though, my sewing area is right in my living room so I was still part of everything! I actually really enjoyed sewing while talking with my parents — a luxury I don't often have.
The pattern I was testing was the Bella Bralette & Cami PDF sewing pattern by Daydream Patterns*.
*Though I was given a free version of this pattern in return for testing the pattern & for providing feedback, all opinions are 100% my own. The links posted throughout this blog may be affiliate links and that means I may earn a small commission whenever someone purchases a product I've suggested or recommended. The commissions earned helps with the daily costs of running this blog. I don't share or recommend products I don't love, don't use, or haven't ever used myself. Thank you so much for your support!
With this pattern*, I had the choice of making a bralette or cami with either a v-neckline or a plunge neckline. Both options are incredibly beautiful, but I decided on the v-neckline because it resembled the look of my current favorite & go-to nursing bra that I bought soon after Kari was born. The v-neck version also seemed to offer the most support! I need all the support in the world whenever I wear bras because I really dislike having to tuck "my girls" back in whenever I bend down to pick up my spirited 2 year old. Can you relate? If not, then you're in luck – both options would probably be perfect for you!
I do have plans to sew up and try out the plunge neckline to see how much support it offers, but I didn't do it this time around because I wanted to choose the option most suitable for what I needed right now.
This was my first time sewing any sort of lingerie so I was quite intrigued. I've been looking for a comfortable nursing bra for some time now & this pattern test seemed like such a timely solution to a problem I was experiencing. I gladly welcomed the opportunity to make myself a bra and see if it would work out…
Spoiler alert: It definitely worked out!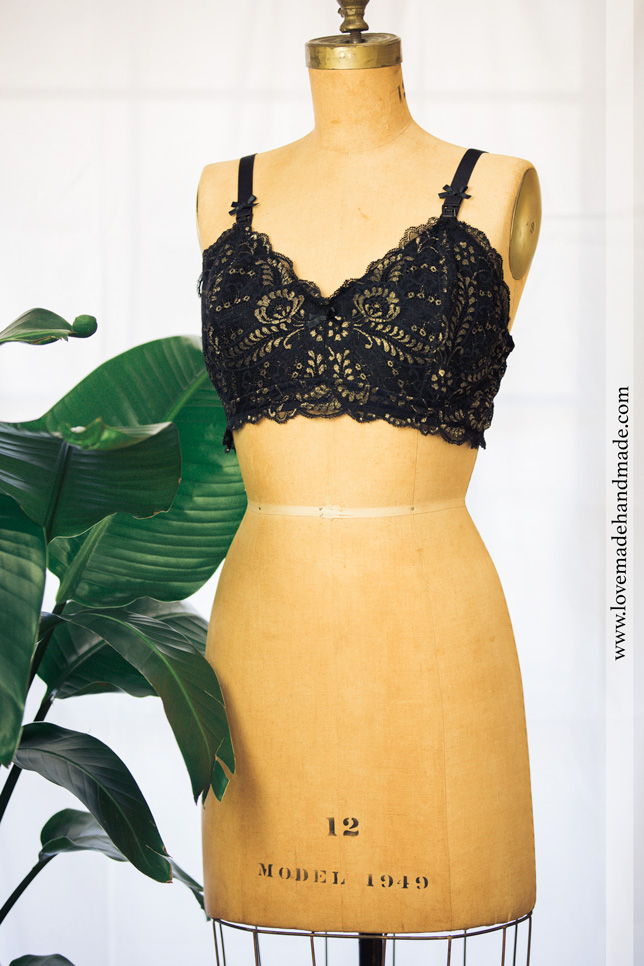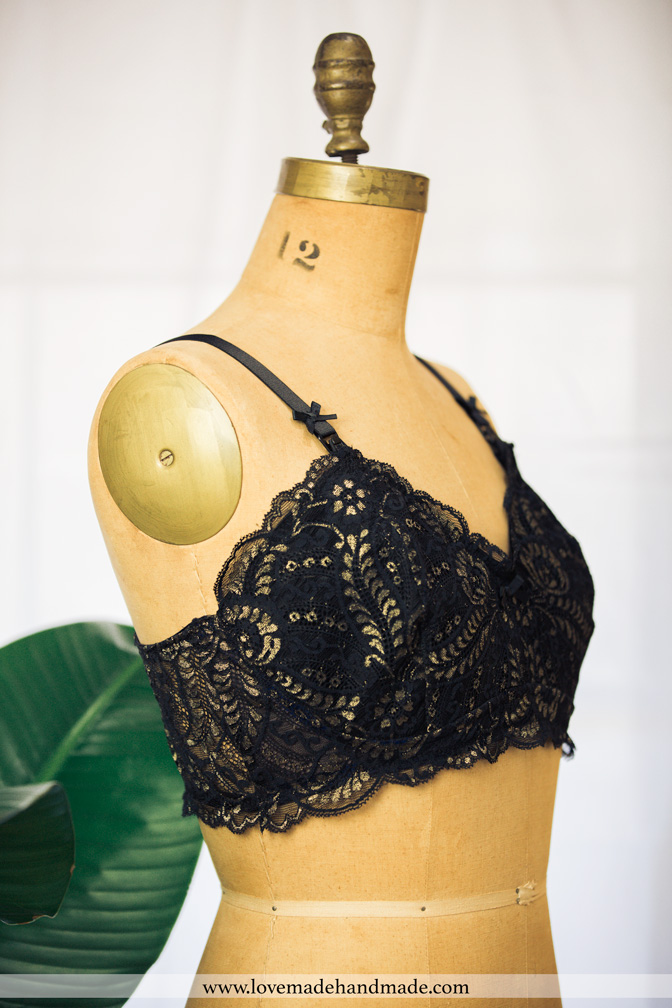 Isn't she lovely? I bought this lace from a local fabric store. There weren't many options available so I went with this one since I already had black elastic and notions to match.
Supplies:
As soon as the pattern testing phase began, I placed an order for stretch laces and bra-making notions from Sew Sassy Fabrics. The only thing I didn't purchase from there was the metallic gold floral lace pictured above.
One never knows what they might face when pattern testing so it's always best to have extra fabrics and supplies! And I particularly liked entertaining the idea that I could have a couple of bras at the end of it all if everything went well.
Spoiler Alert #2: It went better than well…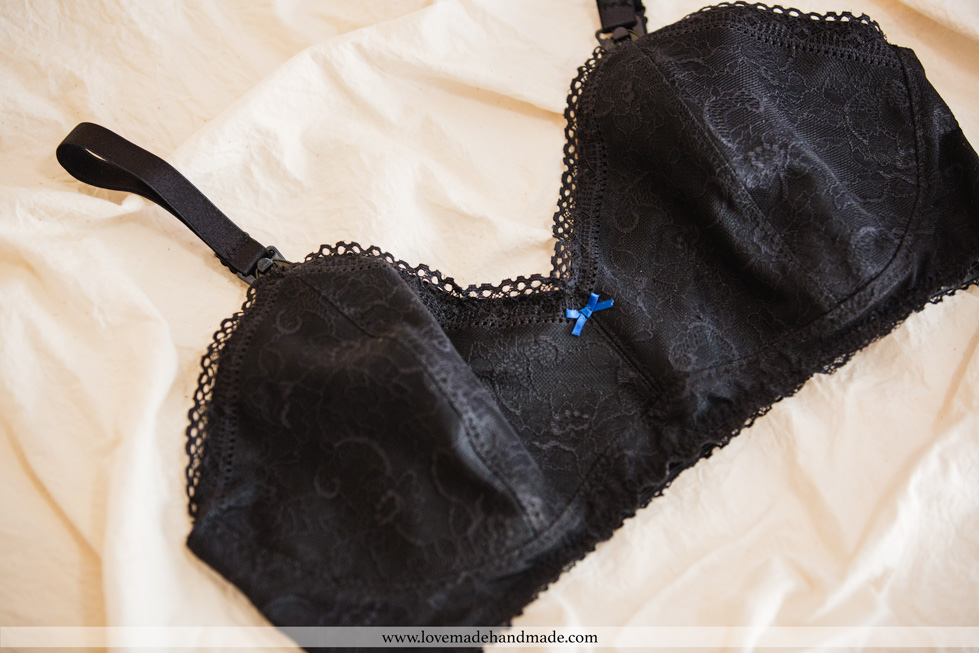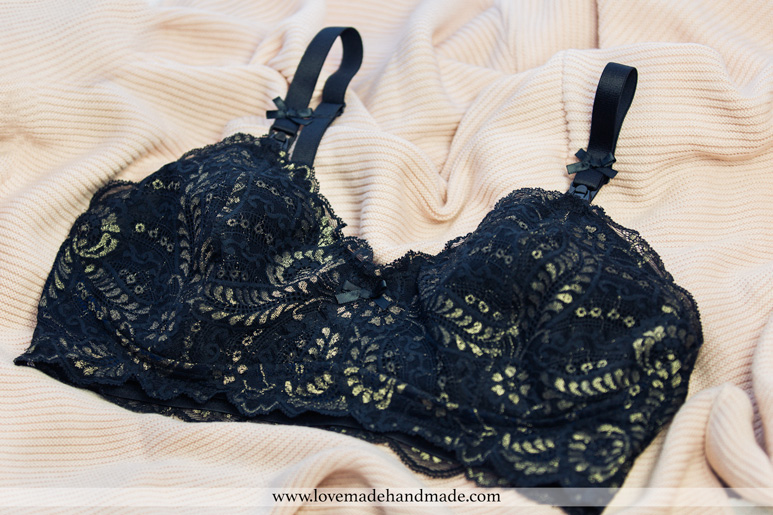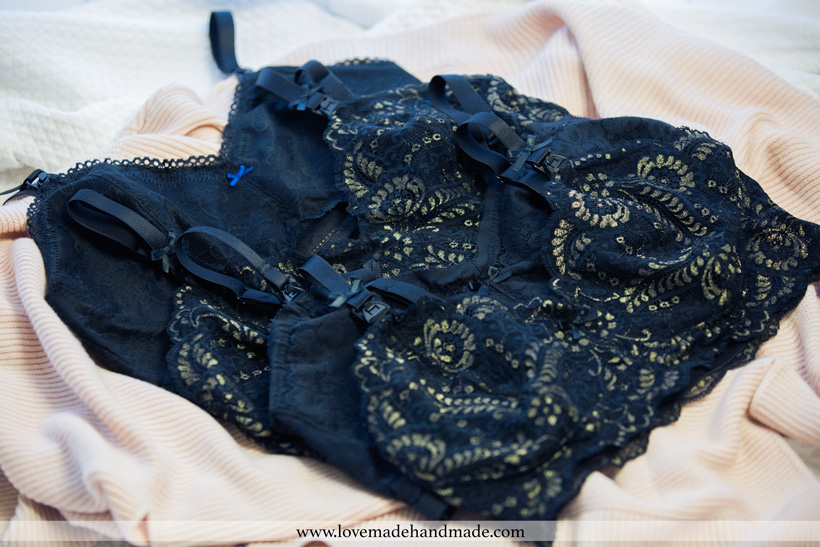 I ended up making 4 bras!
Nursing Bra Hack:
I'm currently in my 6th year as a nursing mother so I made sure to buy the necessary supplies for nursing bras instead of regular ones. This bra pattern isn't designed to be a nursing bra, so I had to get crafty! I pulled out my other nursing bras and  figured out the necessary adjustments to make mine nursing friendly.
I noticed that on the inside of many nursing bras, there is an elastic or piece of knit fabric that connects from the base of the bra cup & goes all the way up to the shoulder strap. This allows the bra to stay on the body while still being able to un-snap for easy access to the breasts for feedings. It's genius!
For my nursing hack, I…
used a 5/8″ black lingerie elastic with the necessary nursing bra clasps
made sure my elastics were long enough to go from the under bust to the shoulder with a little bit extra on one end to go through the bra clasps and fold down to stitch & secure onto the shoulder strap
Sewed the elastic to the under bust to secure it before stitching on my under bust seam cover.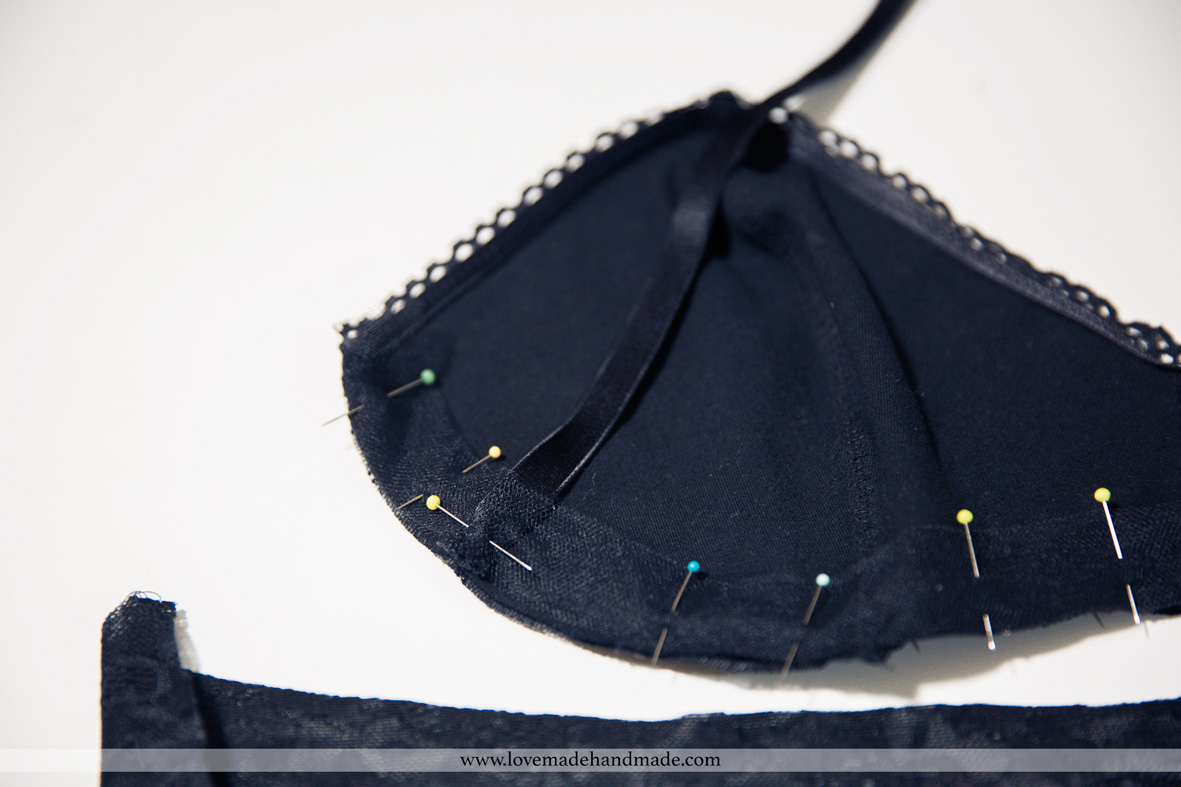 It worked like a charm &  I was thrilled! Such a quick and easy hack!
The only difficult part was making sure I sewed the ends down without twisting the elastics in any way. You want to sew it so that it will lay flat and comfortably on your body when you put it on. I messed this step up one too many times and found myself having to bust out my seam ripper. Oh the dreaded seam ripper…
But it was an easy fix! Mistakes like that help reinforce what I need to pay closer attention to. And after making the same mistake twice, by the third time, I finally slowed down enough to get it right from the beginning. I was not about to grab my seam ripper again! It feels like I backtrack at least 10 minutes whenever that seam ripper comes out… ugh.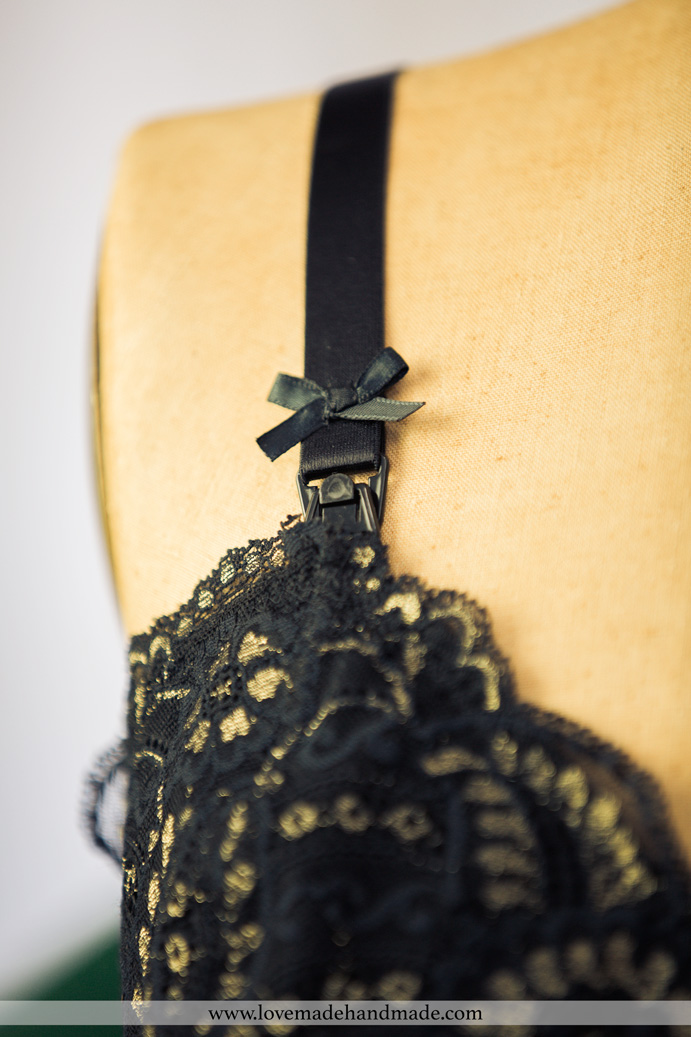 Fit:
The most difficult part of the process, for me, was waiting to see how it fit.
If you've been reading my blog, you already know how important fit is to me. When it comes to my bras, I'm even more picky about fit because they're a functional piece of clothing & should be supportive, comfortable, and well-made. That was my goal for the first bra I sought out to make & it turned out better than I could've imagined!
These bras fit like a dream! They are not only pretty to look at, but quite comfortable to wear as well. The bra cups are lined, raw edges are encased, and it looks as nice on the inside as it does on the outside. These details enhance & elevates this lingerie piece to a standard that rivals high end bras.
If you've never made your own lingerie before, I'd like to encourage you to give it a try! It's definitely not too difficult though I do recommend that you read the directions carefully. Take it one step at a time & before you know it you will have a new bra… or if you're like me, you'll end up with at least 4! Haha.
Lucky for you, The Bella Bralette and Cami PDF sewing pattern* was just released TODAY! If you join the Daydream Patterns Facebook Group, you will gain access to a coupon code that will give you a 25% discount (valid until Monday, Dec. 4th).
Get yours while it's on sale…
Thank you for stopping by!
Happy Living, Loving, and Making ♥
Karina