Hey guys and gals!
I've been busy working on a custom order for a 1st birthday dress. The inspiration? Belle's gorgeous gown from Beauty and the Beast. Beauty and the Beast just so happens to be one of my favorite Disney movies EVER and if you're around my age or have kids, it's probably one of yours too! This movie brings back so many beautiful childhood memories whenever I hear "Tale as old as time…"
Do you recall the ballroom scene when Belle dances with the Beast? The way her dress sways with each move… isn't it just perfect? The ballroom, the dress… the storyline… everything!?! This movie is unforgettable and the design of Princess Belle's gown is spectacular to say the least! I was so excited to have an opportunity to design my version of it.
Design Considerations – Movie vs. Real Life
When thinking up the design for my Belle inspired dress, I knew I wanted it to exude elegance. It had to be fitting for a young child though so I didn't want it sweeping the floor or being difficult to move around in. Instead of a floor-length gown, I made my Belle dress knee-length. And instead of an off-the-shoulder neckline, I opted to add shoulder straps with draping on the arms – to resemble the original design a bit, but also to provide comfort and functionality for the little one wearing it.
Fabric Color, Drape, & Trims
I ordered the fabrics months in advance to make sure it was the exact shade of yellow/gold that I needed and that it had just the perfect amount of drape. Luckily, I found a pretty trim and a gorgeous floral brocade to elevate the design a bit too. The trim and brocade fabric complimented each other beautifully… and I thanked God for that because I ordered everything online – without purchasing any swatches! Talk about living life on the wild side…
I purchased these fabrics from fabric.com
And these from Mood Fabrics:
Preparing the Fabrics
I washed the satins in a bucket of luke warm water with a tiny bit of Woolite – making sure to practice as much care as possible while handling the fabrics during washing. I didn't want it to get snagged anywhere by anything – even by a finger nail!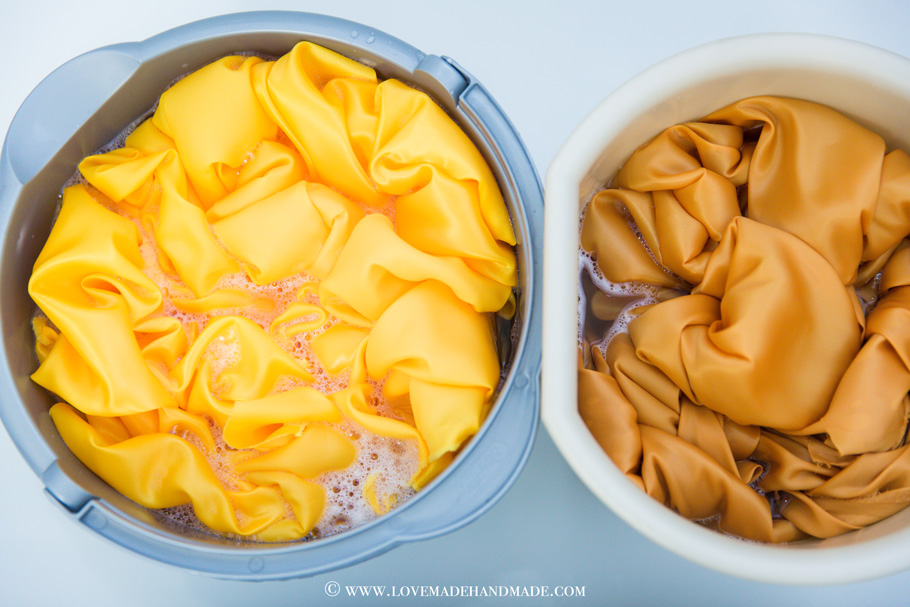 After I rinsed out all the detergent from the fabric, I carefully towel dried them to soak up the excess water. I then tumble dried both on low – making sure not to over-dry it. I neatly rolled up the satin after it was dry – making sure to prevent creasing as I rolled. The fabrics were kept rolled up and stored away from sunlight until I was ready to cut out my pattern pieces.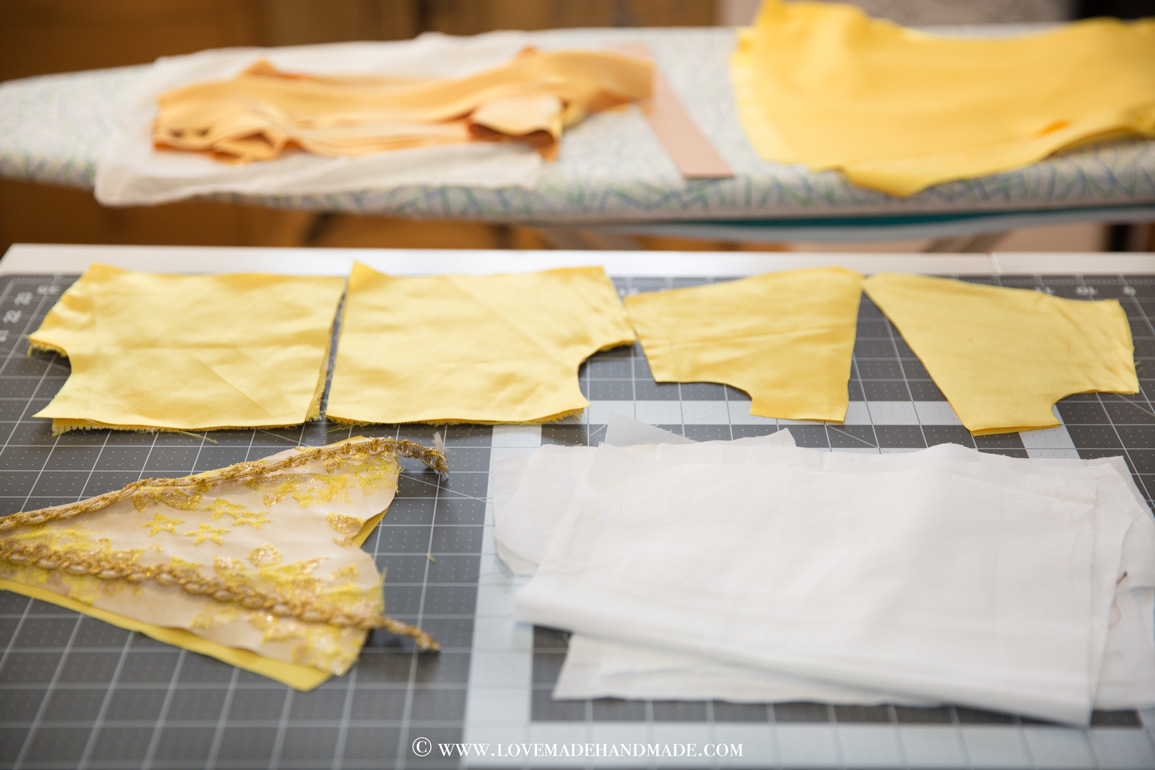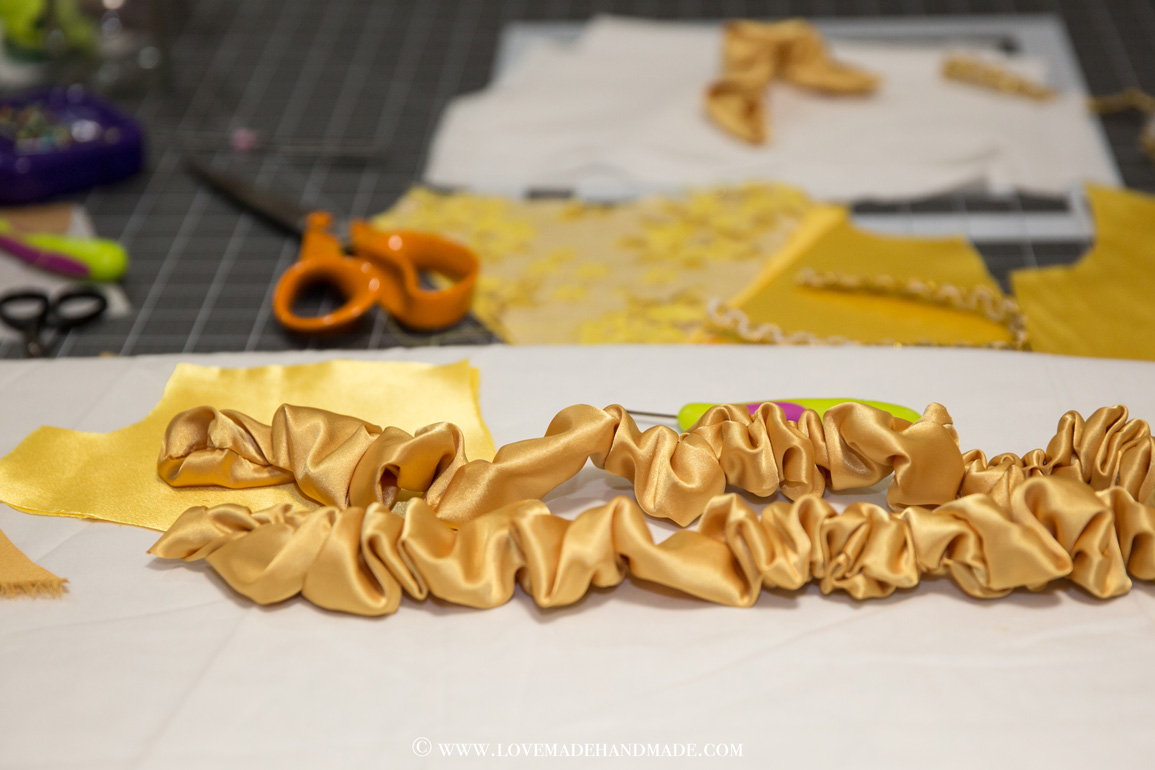 Designing the Dress
Bodice:
I decided to use the floral brocade for the bodice's center front and bodice back. I used the yellow slipper satin for the bodice sides and for the bottom skirt of the dress. For the shoulder straps, armhole draping, and the decorative trim along the neckline, I used the gold satin. The decorative trim was hand stitched onto the diagonal seam lines on center front of the dress.

Back:
I added an invisible zipper to the back that extended pass the waistline. This zipper in the back made it easy to get into and out of the dress – which is a must for dressing 1 year olds. I would've loved to go all out and add covered buttons to the back, but this is for a baby, after all… so I talked myself out of it.

Lining:
This dress is also fully lined and even has a tulle petticoat!!! I love tulle and I loooove petticoats.

Hem:
The hem of the dress was one of my favorite touches – though it was a time guzzler! I machine stitched to encase the raw edges and then created a decorative hemline that could only be created with hand stitching. Lots of hand stitching!

Hand-stitched Details:
The textured gold trim on the neckline had to be hand stitched in place as well – along with the covered button.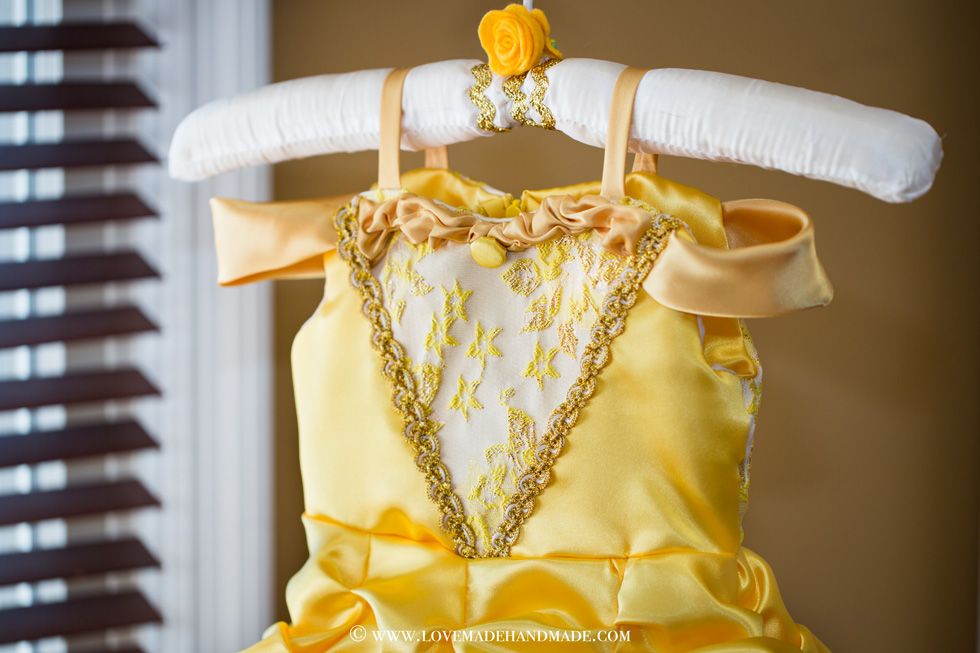 You won't hear me complaining about the hand-sewing though… I thoroughly enjoy hand sewing!
Whenever I think of hand sewing, I picture women in olden times sewing or mending garments for their family while sitting near a fireplace or sitting in a room illuminated by candlelight. I surely don't sit near a candle while sewing (that's a scary thought) or own a home with a fireplace just yet, but whenever I anticipate starting a project with hand sewing involved, a sense of calm and relaxation envelops me and I feel at peace just at the thought. Do you feel like this too? Or is it just me? Maybe its just me…
Any who, I am so proud of this dress, guys… and I can't wait to make another! It looks just like I imagined it would… and fit my friend's little princess perfectly!
Princess Belle's Dress Reveal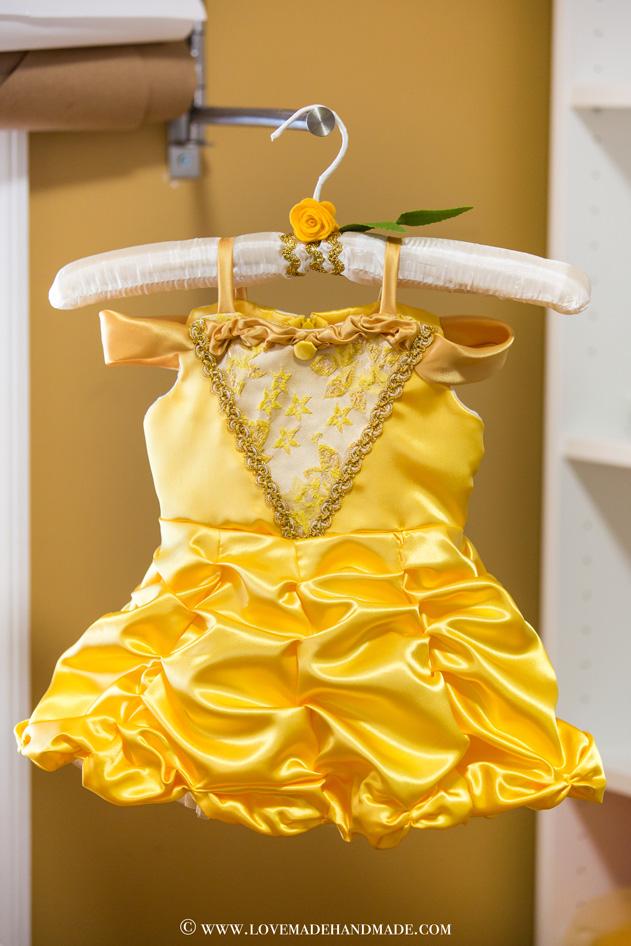 Love & Happy Sewing,
Karina