Hey everyone! Happy Thanksgiving!!!
Today I'm participating in the Thankful Sewing Blog Tour & I'm pretty excited for my turn to share because I have so much to be thankful for this year!
If you're new to my blog, I started sewing in 2012 with the goal of making my 1st baby girl her 1st Birthday dress and I haven't stopped since. I started blogging about my handmade journey this year.
To kick off my thankful blog post, I'd like to share about my most recent handmade dresses.
My oldest girlie just turned 6 years old this month and I've continued the tradition of making her birthday dresses almost every year. This time, I also made one for her little sister as well… because if one of them sees the other with a new PINK dress, I'd have to make one for the another one too. Past events have confirmed this… you can read about that here…
I'm so thankful I get to create special dresses for my little girls. I've always dreamed of doing this! And I'm grateful for the opportunity to draft up the patterns, sew the dresses… & see them wear and twirl around in them… be still my heart!
My 6 year old, Zali, actually designed the one she's wearing… she was quite opinionated throughout the whole process about what she wanted. She was clear about wanting a circle skirt, 3/4 sleeves, and a plain bodice.  She straight up denied the cute bow I wanted to put on it. But that's all good because she was thrilled with it & I was happy seeing her happy.
For fabric, Zali picked the left over pink linen/rayon blend I originally bought for the Pinafore dresses that I made for Kari's 2nd birthday. She wanted a PINK dress… and as soon as Kari heard "pink" she kept shouting "pink one, pink one!" because she is crazy about pink right now.
Both dresses are lined with a soft cotton for the bodice & a static resistant lining for the skirt portion.
I used snaps for the closures at center back… and can I just say how obsessed I am with them?
I've never used snaps before, but they're a total game changer! I want to put snaps on everything now!
Below are some pictures of my girlies wearing their new dresses. Continue reading to find out all the other things I'm sew thankful for this year…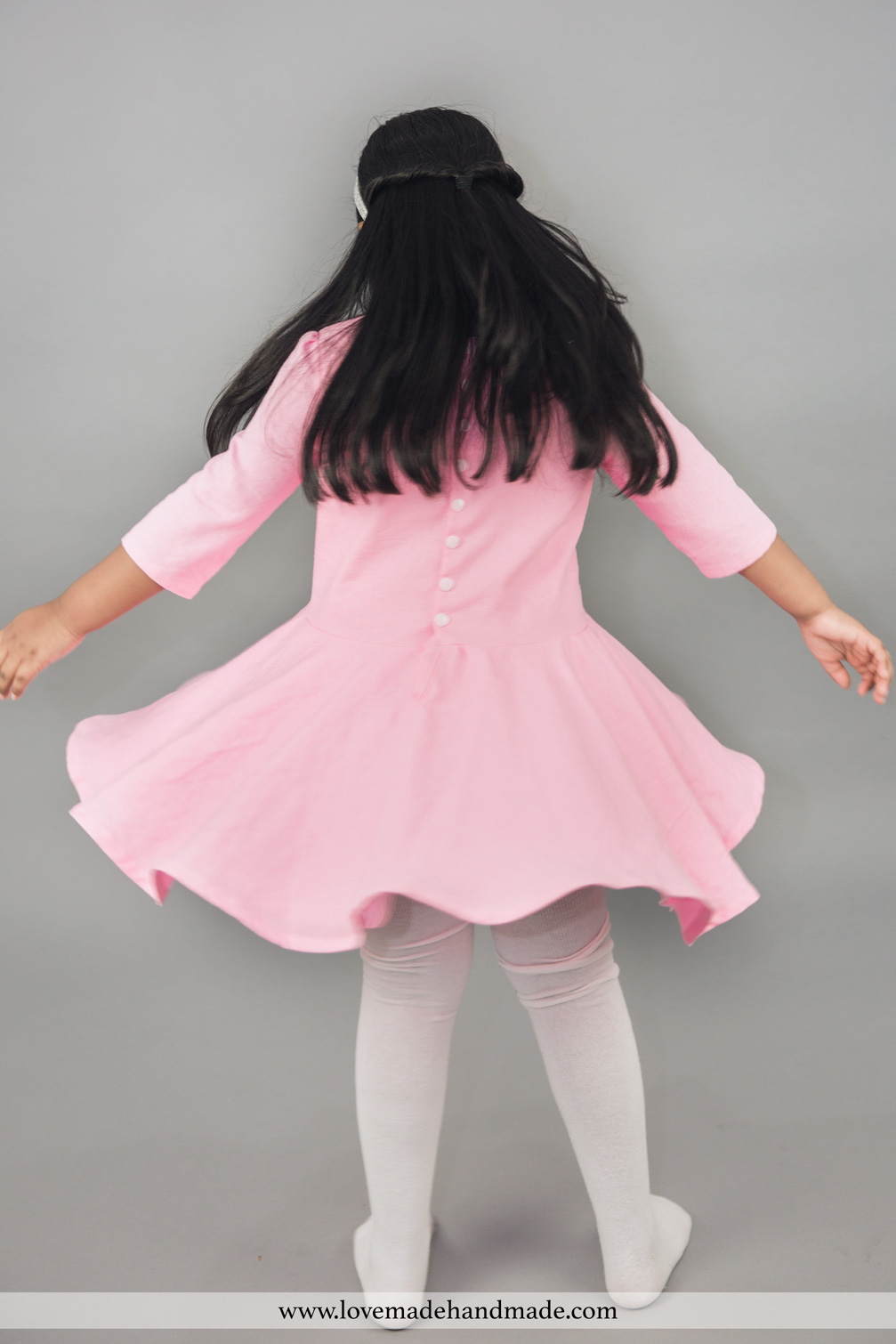 I'm sew thankful for sewing…
Sewing helps me express my love to my children whenever I get to make them something special. And I hope they feel my love for them whenever they wear something I've made for them.
There's something quite special about seeing an idea become reality right in front of my eyes with the work of my own two hands. It reminds me I'm alive and crushing my goals because sewing clothes and sewing them well has always been a goal of mine since I was 5. Yes, 5! It took me another 20 years to start on that journey, but still… it's been a goal for some time.
 I'm sew thankful for this blog…
I've been wanting a blog of my own for years now, but this year was the year to finally make it happen, for real. When I tried blogging previously in 2014, I was severely anemic at the time and didn't know it. I couldn't even concentrate enough to write a paragraph among many other concerning symptoms such as insomnia, heart palpitations, & exhaustion. Fast forward to now and so much has happened since 2014. I recovered from anemia and I soon became pregnant afterwards & welcomed our 3rd baby, Kari, in 2015.
After pregnancy, recovery took a while. My last c-section really took a toll on me. There were a few complications at the tail end of my pregnancy and then after birth so I made sure to take it easy and focus on regaining strength and mobility. I reminded myself constantly that I was in a season of recovery and it was alright to focus on life and life alone.
This blog has been a long time coming & it's one of the many reasons why I learned photography. I wanted to be able to take good photos whenever the time came to start up my blog again. And so I learned photography… and captured a whole bunch of family memories in the meantime while still practicing my sewing & pattern making whenever I could.
I started Lovemade Handmade in January 2017 and it was such an exciting time for me. I made the logo myself and everything else just flowed from there. I find it so cool that my experience learning photography opened the doors for me to understand photoshop enough to create my own logo!  I'm a firm believer that nothing you do in this life is wasted…there is a purpose in everything. And every pause in a project can be beneficial. It ain't over till it's over!
There is still so much I haven't figured out about blogging, but as long as I can make things, share about it, and learn through the process, it's all good with me!
I'm sew thankful for epiphanies…
Before this year, sewing was one of those things I did mostly for birthdays and to practice new sewing techniques. I read countless books & blogs, and watched a whole bunch of videos, but it felt like I was slowly putting pieces of a puzzle together. Somewhere along the way, I was able to wrap my mind around sewing and garment construction to the point where I felt confident to sew more regularly. It took me a while y'all… But I was also focusing on a bunch of different things so it was understandable. I was homeschooling my kids, caring for my new baby, making memories… and buying enough fabrics, patterns, & notions to set up a little sewing studio because I knew I wanted to do a lot of sewing in the future.
I'm that type of person that needs to start at the very beginning of anything to understand it. With sewing and pattern making – that was especially true. I questioned everything! Like why aren't front and back bodices the same? How are darts formed? Why do most tutorials for bias tape always yield a ridiculous amount? I only need a 1/2 yard… why am I making 5 yards of this thing??!?!
I guess I was trying to find that sweet spot in sewing where I didn't have to question every little thing. The goal has always been to understand how clothes were made to fit well on the body and why it all comes together the way it does. There are clear rules to follow concerning that, but there are also exceptions to many of those "rules."
I realized that at times it comes down to just choosing whatever techniques work best for whatever it is I am making.
I had the thinking that there was a "right" and "wrong" way to sew, but truly, a lot of it is just a matter of preference and what works best for the type of fabric you're using and style you're going for.
Sounds simple enough, right? Believe me, it's wasn't so easy for me. It took me years to realize that! Haha.
I think it dawned on me when I realized you could use facings OR bias tape OR collars OR even attach a hoodie to a neck seam… and that it was all up. to. me!… duh!
I'm sew thankful for other sewing bloggers…
Through blogging, I have met many other women who are so similar to me. We're truly not alone in this world! There are mothers, like me, who have kids that they homeschool… and they sew and make their own clothes for themselves & their families… and guess what? They blog about it too! Mind-blowing, no?
These women are such hard workers. Do you know how difficult it is to find time to sew as it is? Add in kids and many of us would rather lay in bed catching up on our favorite television show… no? Is it just me? Sometimes watching TV is just… easier. Have you ever tried sewing with a child latched on to your breast? It's not fun. Don't do it.  Nursing on the bed while Grey's Anatomy is on though… now that's definitely relaxing!
Many of us moms sew early in the mornings, late at night, or while the baby naps… And guess what? Even though we want to do it, it doesn't make it any less difficult trying the find the time to do it!
For all the moms that choose making things over watching TV sometimes, you all inspire & motivate me! Thank you for sharing your new handmade dresses and sweaters and pants… it reminds me that I have clothes to make too!
I'm sew thankful for darts…
I have a confession: When I started up this blog, I still hadn't ever attempted to sew a dart. Darts gave me serious anxiety. I kept thinking " What if I mess it up?" And I feel silly admitting that because darts are pretty straightforward once you realize their purpose, but they just terrified me! So one day I cut some muslin, made some mock darts, and practiced sewing them…and then studied them… & I got over that fear real quick! Haha!
Now, they're my favorite things to sew… and they help cup my boobies so nicely when I make dresses.
I'm sew thankful for clothes that fit ME perfectly…
Soon after figuring out how darts work, I made it a goal to make myself a woven dress. And not only make a dress, but draft up the pattern completely by myself. It wasn't easy – in fact, it took me months! I made at least 3 or 4 muslins… But guess what? I made myself a dress! Read about that here… and here…  if you're interested.
After I made those dresses, I felt like I was standing on top of a mountain when it was all done. It was exhilarating! I finally had a dress that fit well… and the best part was that I made it myself!
I'm so thankful for that experience. It reinforced my thinking that anything I desire to do is never out of my reach – all it might take is just a little time & perseverance to see it come to pass.
I'm sew thankful for the process…
When it comes to sewing, some techniques don't make sense until you actually DO IT… and when you do it, it just clicks. I always remind myself that I'm capable of understanding things if I really read it through or follow every step until I realize why it makes sense. Always tell yourself that you're capable… If you don't understand something right now, it doesn't mean you never will. It just means that you have to spend some time with it and possibly walk away from it momentarily. Step back. Take a little break and then try to figure it out again.
I have a little mantra I say to myself and it goes like this – "YOU define your own potential! NO ONE ELSE can tell you what you're CAPABLE of!"
Sounds simple… and it is, but whatever we tell ourselves we are capable of, that's the measure of our capabilities. You can do anything.  As long as you love what you're  doing and you do it the very best you can in that moment, you'll keep moving forward. This applies to everything in life – not just sewing!
And please oh please, let the whole perfectionist thinking go… so what if there's a little "handmade" touch to  your garment? You know what I'm talking about… that little extra tuck that you didn't mean to sew and didn't realize you did until after it was too late? I've been there too! And guess what? I'll probably find myself there again… and it's not a big deal.  You'll remember for next time & try to be extra careful about it.  And even then, you might do it again… all good. Just think  "it's the handmade touch..."
I'm sew thankful for Progress
So far this year, I've made the most handmade clothes than the past years combined. I've learned enough about pattern making that I can actually execute well-made garments for my girls and myself… and that in itself amazes me. And I didn't do it overnight. Just a little bit here and there whenever I could. Slow progress is still progress, y'all!
I'm thankful for Family…
A major part of my life right now is wrapped up in being "mom…" and mothering will probably always be a huge part of who I am. After all, I'm with my children 24/7. And I'm so thankful for them. My kids have taught me how to prioritize my tasks and get things accomplished in a timely manner. Nursing on demand is a good teacher for this! HA! My littles challenge my abilities daily with their million and one questions, especially while I'm sewing… and they are my physical reminders to focus on what's really important like spending time building loving relationships with them! And sometimes that simply means turning off my machine and cuddling with them in bed instead.
Being able to sew and update this blog is nice, but the moments that matter the most to me are the ones that I spend loving on those around me… If I were to put sewing, blogging, or photography on a higher priority than my family, I feel like I would have failed. They are my inspiration behind everything. And they  come first…ALWAYS – except when it comes to buttonholes! LOL. Check out the FB video I recently shared and you'll get why I say that…
I encourage you to recognize the gift of your family and friends today & every day. Cherish them. Love on them… and be thankful for them! Time isn't promised to any one of us and at the end of the day, all we have are the memories we create with those we love and who love us.
I hope you get to spend today with your loved ones – eating good food, playing a bunch of board games… and sharing in lots of laughter! Take in their presence and just enjoy their company… it's truly a blessing!
I know I'm definitely looking forward to doing all of that!
Before you go, be sure to check out all of the other bloggers participating in the Thankful Sewing Blog Tour. Check below for links and dates…

Our Thankful Sewing Bloggers are creating something special to share with you to celebrate this month of Thanksgivings! As an extra special surprise, we also have a couple giveaways during each week of the tour. Share your thanks with Petite Stitchery who has a new pattern to share with us, a free pattern giveaway from Sew by Pattern Pieces, and a chance to win a shop credit each week from Simply by Ti!
Intro to the tour
November 1st:
Week 1:
Nov 1st: Tenille's Thread
Nov 2nd: Candace Ayala
Nov 3rd: Hazelnut Handmade
Nov 4th: Musing of a Seamstress
Nov 5th: Sewing Portfolios
Monday Nov 6th: mahlicadesigns
Nov 7th: Seams Sew Lo
Week 2:
Nov 8th: Margarita on the Ross
Nov 9th: Stitched by Jennie
Nov 10th: Sewing with D
Monday Nov 13th: 5 outof 4 Patterns
Nov 14th: Tales of a Southern Mom
Week 3:
Nov 15th: Hazelnut Handmade
Nov 16th: Octaves of Color
Nov 17th: Kainara Stitches
Nov 18th: Kutti Couture
Nov 19th: The Petite Sewist
Monday Nov 20th: My Heart will Sew On
Nov 21st: Needles to Say
Week 4:
Nov 22nd: Back 40 Life
Nov 23rd: Lovemade Handmade
Nov 24th: Sewing by Ti
Nov 25th: On Wednesdays We Sew
Nov 26th: Paisley Roots
Monday Nov 27th: Mermaid Mama Designs
Nov 28th: Sew Haute Blog
Nov 29th: Ma Moose Handmade
Nov 30th: Everything Your Mama Made & More
Dont forget to enter for some cool prizes such as Sew By Pattern Pieces Giveaway & Simply by T $20 credit.
Sew by Pattern Pieces Giveaway and Simply by Ti $20 credit
Happy Living, Loving, & Making,
Karina ♥