Hello there! It's me again… stopping in to share with you a new sewing pattern I recently pattern tested for. It's the wonderfully designed and equally figure flattering Franki by The Wearable Studio.
This is the very first sewing pattern from indie pattern designer, The Wearable Studio, and I delighted in being able to play a part.
It's always great seeing others do what they love…
It must be so exciting releasing your very first sewing pattern – putting your design out there for others to try out, critique, and help improve… what a thrill!
The Franki exudes femininity without sacrificing comfort…  it can be made to look boxy or drapey depending on your fabric choice. My Franki was made out of a beautiful baby blue linen/rayon blend that I've been obsessed with.  And the color seriously reminds me of Easter! Easter morning attire, perhaps?
I've used this fabric before many times! I used it for the pinafore dresses I made last summer & for the dresses I made in November for my oldest daughter's 6th birthday. It's truly a fave of mine… super easy to care for and you can see the texture of the fabric which I love.
Before I added the ruffled hem to my Franki, I adored the cropped version. Both versions are wardrobe staples and super chic. Now thinking about it, I wished I had made two – one cropped and one with the ruffled hem because they're both gorgeous in their own way.
I made a size 12 and didn't make any alterations to the pattern. The Franki is drafted for a C bust, and even though I'm a D, I had enough wiggle room all around. I thought the fit was spot on though next time I'll  narrow & shortening the shoulders a smidge – only because I'm quite petite and felt the bust point landed a bit low for me… but thats because of my unique body type… it has nothing to do with the pattern itself.
Lovely details
I'm definitely gonna make a bunch of these Franki's for spring and summer though. DEF! Especially for date nights when I won't be nursing my little one. I love that I can just pull it over my head & that it doesn't hug my body. I love that I can dress it up with a skirt or wear it casual with legging or jeans. But most of all? I love the keyhole detail & ties on the sleeves. So pretty!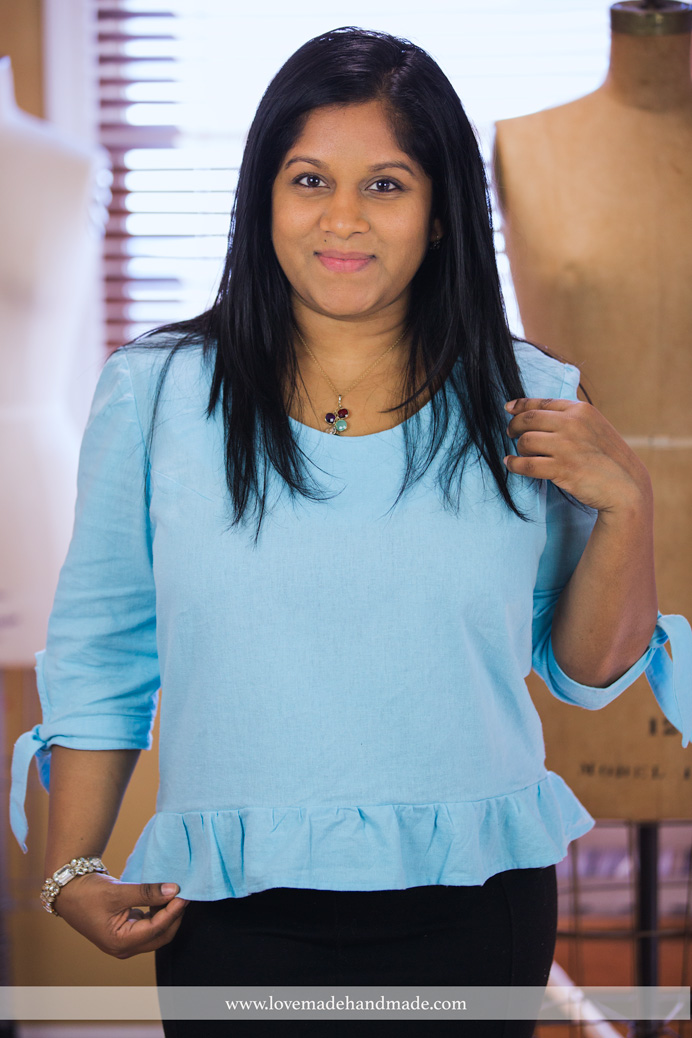 This sewing pattern is certainly beginner friendly. There are no buttons or zippers involved.  The neckline is finished with a facing & if  you've never made a garment with a facing before, no worries, the instructions are included with the sewing pattern to make it all come together easily.  It's also a relatively quick sew… I started mine on a Friday night and had a new top by Saturday night. Easy Peasy!
Franki Digital Sewing Pattern by The Wearable Studio
If you'd like to make your own Franki, head over to www.thewearablestudio.com and get your hands on the newly released pdf sewing pattern or you can click right here and you'll be taken there automatically.
Happy Living, Loving, & Making…
Karina ♥